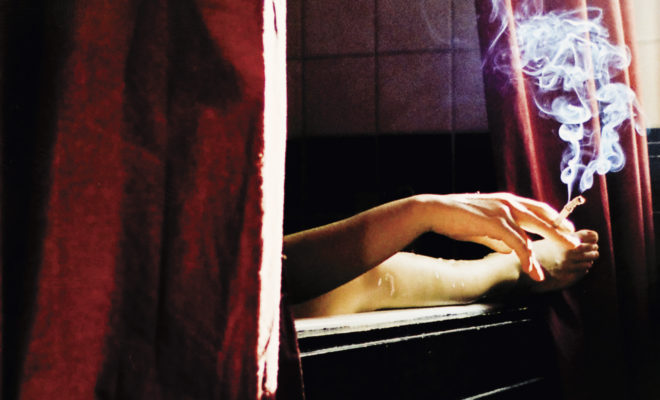 The Snuggle Hustle
|
BY AMANDA LEIGH LICHTENSTEIN
Most nights, I am gripped with fear. I drink a glass of red wine, smoke a joint, sink down into a tub of scalding water, and let the musky smell of me rise up in revolting, familiar vapors. The water is too hot, my toes turn bright pink, I sink down further, pressing my feet against the steely silver knobs. I shave my pussy in the tub. I circle coconut oil in the tuft that remains. I remember when a man I used to love shaved me, building heat within me as he talked softly through the gentle scrape and flex, which led to sex on the bed that was a boat floating us both farther from the shore.
When I heft my puckered body out of the tub, I'm afraid to fall and spill the pain that now lies dormant in my hip. One spring day nine months ago, I stepped up onto a bus and tripped. My right foot fell flat, it was numb. Then my entire leg. Radicular pain started pulsing through me, factory-like, always on time. And then I was up at night wailing and alone. And then I was crawling on the floor. And then I was a rabid dog in the world, barking at those who remained whole. I hated the healthy ones. Especially the lovers. Only Sontag was allowed in my house. She sat there smoking on my bed, telling me I'd crossed over into the land of the ill. It took me almost a year to return to the living. Sontag disappeared slowly like any good phantom.  I am still afraid when I wake up in the morning. This is the temporary condition made permanent by the breakage of the world, its heart torn out of its cavity, and all the world's pain rushing in, a flood of nothingness and no one.
This all occurs during a failed attempt at a return to the United States. I used to live on an island where I spoke a different language and shook through bouts of capitalism detox. In America, I wake up afraid, feeling distinctly that I am in the wrong place, wrong country, wrong bed, wrong economy. I live like a beast, eating hunks of roasted chicken temporarily housed in a plastic dome while standing up in the kitchen, licking my greasy fingers, plucking out the livers, drinking this all down with the red wine from the night before, the bottle still left on the counter, attracting a small dance of fruit flies at the lip. I live like a beast, rolling my underwear down to my ankles and climbing out to collapse on the couch, naked. No one sees me here moving like a ghost between rooms. It is dark and warm and the ceiling leaks rust and worry.
I'd like to call home the few men I know to shave or snuggle me. But I gather from observation in this new old culture that a direct ask is inappropriate. Instead, I smoke another joint and imagine how the ask might go, while stretching on the rug that smells vaguely like my body as I usually stretch naked these days and never shake out the rug like new. I am on a stretch regime according to my gentle physical therapist who assures me that yes I will have sex again one day.
In the imagined ask, I am direct. The scope, transactional. Come over and hold me, we'll listen to audio books on transcendental meditation. All the time we spend on social media could be gathered up in the shared dream of transcendence. But you are making ants on a log because you think it's clever and retro. You are making Youtube videos about audio editing software. You are fighting nightly with a woman you call your family, who is now sleeping with another man, just weeks after you told her your mother died of lung cancer. You, with your limp and missing tooth. You, with the bugs in your brain.
There are many yous here and none of you are home.
I work hard to expel you from my life, but you still return in dreams. You persist, so I reject you out loud when I'm bathing in the overheated flat during the Chicago winter when I'm most paralyzed. Brutal below-freezing temps threaten newborns making their way home from the city's maternity wards. Men and women huddle on the streets, their raw, red bulbous noses exposed to the licking wind. In the tub, I will not spread my legs, letting the ghost of you in again. I do not reach for your invisible cock. I cast you away. Get out of my miserable winter. Get out of my molding heart.
One night, over the holidays, my college friend B and I sat up late on my couch with a laptop open on our laps, scouring for links to philosophers and poets. B was in town for the holidays from New York City, where he thrives as a Gestalt psychotherapist with clairvoyant powers. B and I met in a Buddhism 101 class during our first year at the small, Midwestern liberal arts college we hated and then grew to love through our love for each other. Our reunions are epic. He was going to stay with me a night or two in the stark apartment, but it snowed, and kept snowing, and the planes grew confused like real lost birds. B was stranded with me in Chicago. We cupped this rare gift of time in our hands and marveled it.
B talks to me about his lovers, the ones he meets on Craigslist, who sometimes come to pose for him while he draws their figures. Occasionally, a couple answers his ad. They start kissing on the couch. This doesn't bother B. Sometimes he is naked too, and reaches for them. They reach back and breathe together. "Doesn't this scare you?" I ask. Meeting people like that. "No," he says plainly. "Most people are good." I talk to him about my absent "yous": which leads to a conversation on the rise of professional snugglers in the ever-expanding DIY sharing economy. Who does that? Is it like sex? What's so professional about it? Aren't all humans potential snugglers? How much do they get paid an hour? Could we consider this as a side-hustle? I would like to order a snuggler through a drive-through, I told B. I would like to order a snuggler with a side of fries and a chocolate shake.
Snuggler, here's how you get to my house: If you're coming from the lake, you'll need to find Diversey Avenue and take it all the way west past California, make a right at Blue Table, but don't stop in there for a drink first, because a single glass of wine there is the cost of an entire bottle and that's way beyond too much. If you're coming from I-94, get off at the California exit, but try not to think too much about sunshine when you make a right at Popeye's, and try not to think about fried chicken, either, because I am now gluten-free.
I never thought I'd be so "high-maintenance" but this is about pain management, snuggler, so you must understand. I do eat meat, though. You could tenderly deliver an entire barbecue brisket and I promise you this would increase the chances of our having sex in the overheated flat. We can open a window, lick our barbecued fingers, and blow smoke out the window, catching a blast of freezing wind as it slithers between us. We'll be naked by then, we'll run back to bed. In this encounter, at the witching hour, I will try not to remember the time I wrestled a god-damned Saran-wrapped cheap IKEA mattress up three flights of stairs alone, wrangling it like a fucking dead body. Those first weeks back in the United States. Snuggler, you're here now, I'm glad you made it. Now be a good listener, do as I say.
Once, I attended a town hall on sexual violence within the spoken word community in Chicago. Older, attractive teaching poets with charming young disciples and their varieties of real and imagined snakes. Young poets, wired for hypnotism and baptism, but mentors don't say you're getting very sleepy, dipping them whole in the holy water of words. Clandestine meetings in living rooms make for the easy slippage of hands and fingers into warmer words and parts unknown, lips to the neck to the breath of the promise of name recognition. Men like to get got and get down and get known and get going. The young chicks coo for the collar. Men's pens: their cocks and swords. Let's face it, we all feel powerless. The feminist project has stripped men down to their shit-stained underwear, and some of the older poets, let's face it, are battling unsightly and painful bulging hemorrhoids in silence. Years of stress as unknown poets tore their assholes to shreds. And so they say, let me into that soft, wet place, little girl. Let me in, let me in, I'm in, I'm in, I am never leaving. And a choir sings, don't leave.
It sounds like I actually left the house that year. Fake news. I spent almost every night alone, bathing and drinking red wine, or more recently, smoking weed or meditating, so that I could leave my body and not have to feel so acutely the loneliness of living alone without man, child, or man-child. It feels not unlike living in a private, isolated airport regulated by a rogue state, going nowhere, just waiting for ghost flights to leave and take off. I stopped checking the mind's digital flight board. The numbers blurred within. I barely continued to take the trash out and stretched daily in the morning. When I could meditate, I gathered for an imagined naked swim in the deep pools within.
One night, I did venture out to Hyde Park, which is really quite a commitment from anyone living on the Northwest side of the city heading Southeast. I arrived at the bookshop bundled in black to hear my college poetry professor read from her latest book. I was a poet held hostage by my unpublished poems. Let me hear the voice of the poet-professor who first told me I would remain, always, a citizen in exile. I loved her premonition as a personal lovesong. There in the stuffy, over-heated basement bookshop, I sat next to my wise friend L where we gossiped in our metal folding chairs before the reading begin. L, I said, I want to be shaved. L looked at me with kind oh-honey eyes and told me I wasn't crazy for wanting to hire a professional snuggler, someone who will listen to my instructions, take out my trash, help me sweep the rust seeping from the roof, and listen to me lament the state of my unpublished manuscripts.
Would a snuggler know how to fuck and talk writing? Would a snuggler give without regret, resentment or expectation? I didn't think so.
You still send text messages telling me you'll love me forever. You have children now with other women. You think you can lead me up the cement steps to your borrowed flat with timeless ocean views and contemplate your neighbor's ancient porch collapse. You think your instant coffee and doughnuts will dissolve the nightmare of your fist. You want to sleep with your hands between my thighs, smear coconut oil on my ass cheeks, turn the fan on, close the shutters so no one peeks into this sick little dream. You sit on the roof's ledge, light a cigarette, inhale slowly, exhale through your nose, and watch me leave.
My mother doesn't ask me questions anymore about my love life. She's a snowbird herself, living in Florida half the year, dividing her time between Goodwill, dialysis, and God. My father once apologized for their failed marriage and any effect it may have had on my status as a single woman. We were sitting in a booth at Marilyn's Diner in Skokie over a heaping plate of pancakes saturated with buttery syrup. Back when I was still eating bread, I tore off a hunk and jabbed it into a tiny butter cup, chewing and listening. "I'm sorry," he confessed. "We weren't always the best example, your mother and I." I looked at my father's tired, drooping eyes, all puffy and blue like robin's egg shells. Growing up, my mother had ordered my father to and from Jewel enough times to break him down. But his main woman was jazz, his guttural chants filling the house past midnight, while banging on the electric piano. "Dad, it's really fine," I convinced him. "Just don't expect me to want what you had. I'm working on a more feminist project."
Meanwhile, I keep notes on this despair. I live far away where men exist outside the nation of feminism, with rules of their own about chivalry and fucking. My gift is split. I am not snake or child, goddess or woman. My poems appear as sporadic lightning in the great electrical storm flashing through the night sky of my life. I remember believing in love. I loved a boy in preschool. He lived down the street from me. When we were sixteen, we finally kissed. He and I loved each other operatically in the showers and botanic gardens of our childhood, under street lamps and in the forests of our youth. I inhaled his pungent love like a potion to sustain me through the rest of my life. He wore a black top hat and crawled the walls like spider man to impress me. But our love tore open and we fell out. Years later, when his mother died, I wept. When she died, it felt like a piano key got stuck in my soul. His mother was an artist who drew nude portraits. Her sketches were like a wondrous penis alphabet, a visual encyclopedia of curious desire.
And now, with any you who appears at my doorstep, I know at least the basic steps of this painful dance. Take one, take two, take three. Head up, arms down, release. Arms up, deep breath, release.
This is what I explain to my professional snuggler during our first session. We meet on a Sunday, sober. He follows tips he has read religiously in the Snugglers Bible of 67 positions. My friend L and B are on speed-dial. I do not clean or sweep, the bedroom is a heap of neglect. The Snuggler and I barely speak but he does reveal that he goes to juggling conventions for fun. He is bearded and young. I ask him not to look at my bookshelves or through my medicine cabinet. He agrees, his knees locking into place with mine. His arm reaches around to grip my rolls of belly fat. I say squeeze hard. This is not erotic. His breath is warm and he smells like Cedarwood. Next week, I'll hand him the razor, ask him to snuggle my pussy with a close shave.
---
Amanda Leigh Lichtenstein is a writer and poet from Chicago, IL. Her poetry appears in The Moth (Ireland), Another Chicago Magazine, Painted Bride Quarterly, Horseless Review, Paul Revere's Horse, Contrary Magazine, among others. Essays appear or are forthcoming in Selamta, Teachers & Writers, Mambo Magazine, Addis Rumble, Art in the Public Interest and AramcoWorld. She currently edits for Global Voices Online and is working on a book of essays about faith, sex, and belonging. Stay connected @travelfarnow.