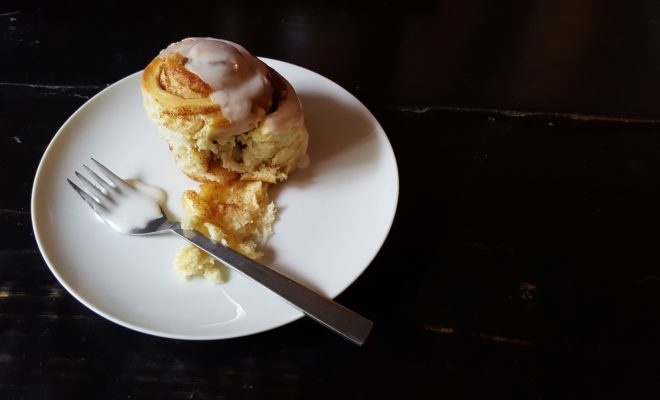 New Girl
|

BY ALEX REECE ABBOTT
"You've probably already guessed." Pagan stares across the small corner table.
Billie studies the vaulted, low ceilinged room, now a cosy, subterranean cafe. "Interesting place. Very…snug."
Only five minutes from Billie's work, The Crypt is jammed with public servants. Her colleagues are tucking into the cheap, generous portions, served by cheery volunteer church ladies in grey prison warden smocks.
Pagan flashes her wide grin. "There's lots of great lunch spots nearby – I'll show you. And, this is my shout."
"Thanks." Billie grins, remembering all those warnings about people in the capital being frosty, and now she's here, the new girl, out for lunch and making friends.
The departmental library where Pagan works is opposite her office. Surrounded by crammed, orderly shelves, Pagan comes over as uptight, tense – no, intense. But, helpful. Always friendly.
Now, she's lolling. And, beaming. Such a lot of teeth. Big, white teeth.
Billie uncoils her cinnamon swirl – a tangled knot demanding her full attention.
Pagan drags her chair nearer and bumps the salt-pig, spilling a crystal river between them.
"I know you've just moved, and you're still getting your feet under the desk…"
Billie fights the instinct to throw a pinch of salt over her left shoulder. Sound bounces off the Gothic stonework, echoing like a dungeon. She pops a morsel of sticky pastry into her mouth.
Pagan edges closer. "But…I really like you."
Billie inhales, suffocating on a cloud of icing sugar and pastry flakes. People stare. Spluttering, she waves, in case they – or Pagan – think she needs the Heimlich manoeuvre.
"Went down the wrong way, sorry." Billie dabs her streaming eyes. The chunky walls are oppressively close. "You enjoy working at the library?"
Pagan shrugs. "It's okay. I've been there ten years."
Billie stares at the spilled salt, an awkward teenager. "I love my work. Deadlines, being busy. Love it. Lots to do. It's very — "
"Busy?"
"Very." She pokes at her greasy, cinnamon worm.
"Not enjoying that? I'll take it back." Pagan reaches for her plate. "Tell me what you want – anything – I'll fetch it for you."
Billie holds up her hand. "It's fine. Thanks."
"You must know how I feel," presses Pagan.
How…she should have known – shouldn't she? She sees Pagan every day. Several times. Billie gulps. She wants to sweep the salt back into its container. Instead, she studies her watch. Which also stops her from screaming: Honestly, I had no idea.
"Honestly, I'm flattered…really. But…I'm with…."
Pagan's eyes narrow. "I never see you with anyone."
She really should have noticed something – shouldn't she? How self-obsessed she's been, with her move and her new job. Billie folds her arms and glances at her watch again. "It's…complicated. It…he's…long distance. Talk about hitting the ground running. I'm right on this massive…deadline. Hectic."
Her chair scrapes as she stands. She takes a pinch of salt and throws it over her left shoulder. "Got to get going. Sorry."
She trudges back to her office alone. Stupidity warps time.
It feels like an hour.
---
Alex Reece Abbott is an award-winning writer working across genres, forms and hemispheres. Regularly published here and there, including in Pure Slush; the Katherine Mansfield Society: Creative Work; Flash Frontier; Hysteria, FlashFlood; Headland Journal; the Maine Review and Landmarks: the 2015 National Flash-Fiction Day Anthology, her short fiction has won the Northern Crime Competition and the Arvon Prize, and often shortlists, including for the Sunday Business Post/Penguin Short Story Prize, Bridport Prize, Fish, Mslexia and Lorian Hemingway. A multiple nominee for 2016 Best Short Fictions and the writing.ie Short Story of the Year, her literary, historical novel, The Helpmeet was a winner in the 2016 Greenbean Irish Novel Fair, while her contemporary novel Last of the Lucky Country, shortlisted for the 2015 Northern Crime Competition. She barely blogs at www.alexreeceabbott.info.