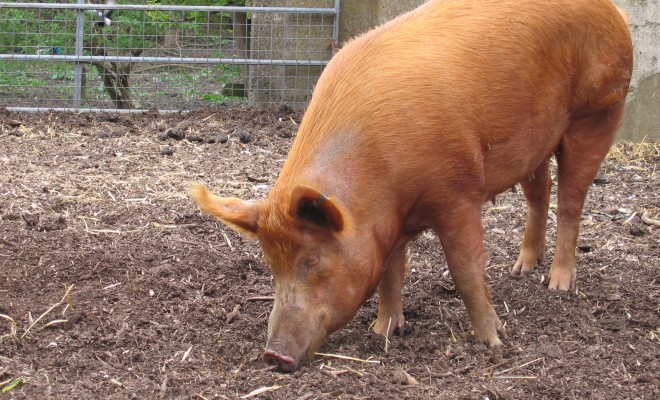 In Plain English: The Skinny on Pork Belly
|

Mary Beth Hoerner
The pig has two bellies, and you will have at least that if you fall for the pork belly craze being perpetrated by our finest restaurants.
It's not that I have anything against bacon. I've even coughed up the eight bucks it costs for a Voges bacon & chocolate bar. When I was little, I not only ate the multiple pieces of bacon on my own plate, I ate my sister's discarded bacon fat, which she was forward-thinking enough to gnaw around. But that was back in the late sixties—when health foods where things like eggs and cheese. Now we know better. The First Lady knows better, and she keeps swinging those skinny arms around, begging us to "not be so fat." And I, for one, do not want to be on her bad side.
So hear it is in plain English:
Pork belly is bacon fat, my friend. Only it's bacon fat times ten because it's thicker than all get out. Okay–it's only 92% fat. It's unsmoked, uncured long strips of Babe's belly fat.
Chefs are trying to fool you by jacking up the price and giving it a new name. (Although I would love to meet the marketing people. Couldn't they have dreamed up a less barnyard, backwoods, in-bred sounding name? Pork entrails, perhaps?) I heard a fancy-pants new chef say ON NPR that the economy's in the pooper, and one way for her to keep menu prices under control was to serve unknown cuts of scary meat. I'm paraphrasing, but still.
My so-called foodie friends insist on not only eating pork belly in front of me, they wave it in front of my face in all its pale, rippled glory.
"Wanna try some?"
I shake my head no.
"It's oozing flavor."
I can see that.
My friend gives up and puts the forkful of belly into her own mouth, and her tongue is interacting with it, and I wonder what it's like when people eat tongue, which they do, and the two tongues come together—
"It's a soft, creamy tasting fat."
My eyes start to tear up, knowing that in that one bite is 15-plus grams of fat, and I like my friend and don't want her to die.
"No carbs!" she assures me as she licks the tiniest bubble of grease from her lip.
I'm just saying don't fall for it. The emperor's not wearing any clothes. If eating gobs of bacon fat you must, save yourself some dough and go to a breakfast joint.
About the author…
Mary Beth Hoerner is a Chicago playwright and fiction writer.  Her play Atomic Honeymoon was performed at the Cornservatory in Chicago, she is a network playwright at Chicago Dramatists, and, she was the recipient of a Ragdale residency in playwriting.  Her short fiction has appeared in various publications, and, her memoir Night Gamesappears in the anthology Cubbie Blues:  100 Years of Waiting Till Next Year.