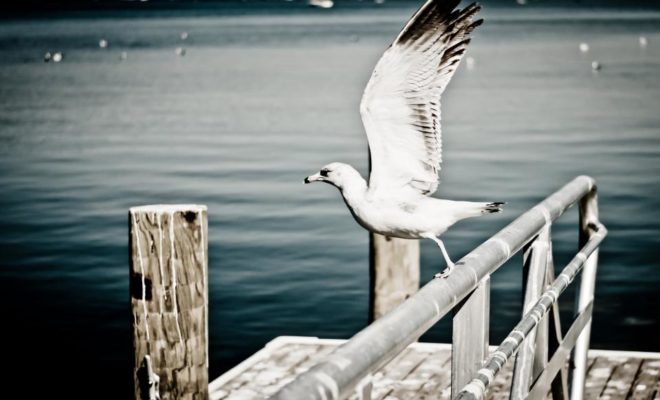 Flash Fiction By Lizzie Michael
|
By Lizzie Michael
Seagulls as a Metaphor for Love
I want to open a food stand that serves seagulls smothered with orange sauce and call it Szechuan chicken. We eat pigeon, dove, and all various wild birds. A seagull tastes like pizza and vomit, because that is what seagulls eat.
Two aviators adrift in a life raft float in the ocean. Desperate for food, they happen to catch a seagull. Having nothing else to eat, the aviators strangle the gull and rip open its chest. The seagull was extremely rank. They did survive.
Seagulls eat feces and waste from trashcans and chunks of dead birds and other birds' babies. They are riddled with unsavory bacteria. In beach towns, like on the coast of Maine, they watch you and they will flock to your pint of salt and vinegar french fries. The first pitch, a soaring fry through the air, the big one catches it. Others watch with envy as it swallows. Seagulls are on the pavement outside the fast food chain restaurant where you left me.
Barbara
I was soaking wet in a pair of capris and a black-and-white striped t-shirt — sand in my hair, buzzing in my right ear that wouldn't go away for three weeks. Instead of going to the hospital, I hid under a bridge. I didn't know it at the time, but I was severely dehydrated. I started meditating on top of a rock. I rummaged through garbage cans, found leftover french fries, opened cans of food, plastic bottles with mouthfuls of fresh water inside.
Then I met Barbara. Barbara was a seagull. Her nest, made from twigs, lay under the bridge where I sat. I watched her feed her young. I watched her watch me. I watched her watch me watch her. Perhaps she was afraid I would hurt her baby.
On the third day, I was sitting on my rock, watching Barbara protecting her baby and watching me, wondering what happened that made me forget. I must have been tortured, strapped to an electric chair, beaten, nearly drowned. Maybe I had witnessed the death of someone I loved very much. The more I thought about it, the more I realized I was truly lucky. I had the chance to start anew.
___________________________________
Lizzie Michael is an MA candidate at Northern Michigan University where she serves as associate editor for Passages North and instructs English composition.