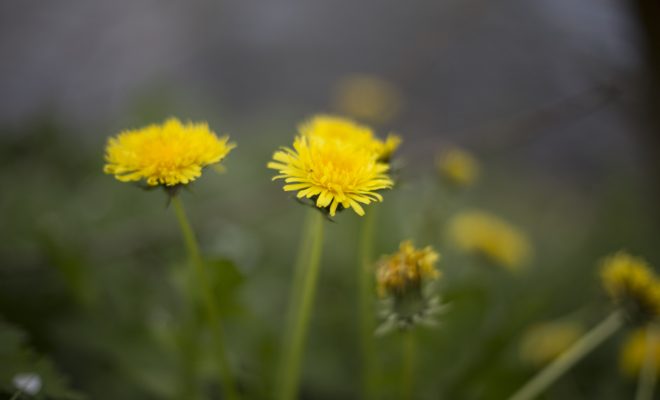 Alma
|
By Caitlin Farrugia
Alma, who even at 7 tries to find the justice within a situation, doesn't wait for Mr. Hutton to pick her to talk. Instead, she speaks out from a sea of cobalt blue, wide brimmed hats tied tightly under small pink and brown chins, "Why do only the boys get to run?"
"Alma, no calling out." Mr. Hutton stares at the student until she understands to place her slender olive skinned arm in the air. She is selected to talk and then repeats her question.
"Well cos' we need someone to cheer. Anyway the boys are faster," Mr. Hutton supposes.
"Are not." Again, she doesn't put her hand up. "I run just as fast. So do heaps of girls here."
Mr. Hutton is done arguing with a child and lays out the cones for the 800-metre practice sprint. From the sidelines of the oval, the girls sit in their checkered indigo dresses with solid white collars and admiral bright buttons. They pick the weedy, sunny yellow dandelions and watch the boys run for their lives.
"This stinks," Alma says.
•
Grandma opens a fleshy hole in the chicken and stuffs buttery breadcrumbs inside. Its wet and smooth meaty skin shows raised bumps like a cold shaved leg. She is still in her gardening clothes, a dirty paisley red shirt tucked into a worn out pair of blue jeans.
"Mum is outside ready for ya love." Grandma's lips are chapped from the sun and hold a half smoked cigarette.
Alma shovels two strawberry wafers in her mouth and heads outside. The air is softer now, cooler on her legs. There is a smear of pale lapis across a smoky lavender sky. Mum is already in the ute. Two white dots are the headlights and the exhaust pipe exhales smoke. Mum blows her daughter a kiss with her dry, calloused hands. Alma thinks her Mum's hands are tethered from a life of farm work and using her fingers to swirl Auslan, however it is only the first. Mum signs for Alma to follow the car. Alma nods wiping the pink biscuit crumbs from her lip, already crunching dried golden grass under her runners. Blue mountains hug the surrounding expansive landscape to which the ute and the girl are mere marks. Spectator sheep stand along the fence. A snake shivers away. Mum's ute is parallel to Alma now, who poses in a runner's lunge. A drum beats wildly inside Alma's ribcage, her chest a speaker of the echo. Mum revs her engine with the breaks on. Almost accidentally ripping a burnout, the ute takes off and so does Alma. She chases the old beaten truck, matching its speed.
•
Ms. Danher's room is too colourful. Each chair a different shade of orange: marmalade, apricot, cider. Youngster artist's sequined fish hang from the ceiling. Alma sways her feet kicking the metal table leg. From out the rectangle window, she can see that play lunch is a delight today. Someone's squeal is a ribbon of sound swirling past the classroom. Another uses their skipping rope to lasoo a crowd of kids in a game of helicopter. Two friends share a frozen orange juice cup from the tuck shop. Ms. Dahner uses her whole mouth when speaking. It almost scares Alma into thinking her teacher will eat her.
With articulation, "It's unfair and you will find this right through life. People telling you that this is for boys and this is for girls. Alma, nothing is just for one gender."
From what she can infer, her teacher is talking about Alma wanting to race the boys at the athletics carnival. Though she could be wrong, for the entirety of her teacher's speech has been in twists of language that confuses the child greatly.
"Boy's clubs aren't limited to just school. Do you understand?"
She nods even though she has no idea what this woman is talking about. Alma places this experience in the basket of awkward conversations she's had with adults.
•
Several tents dot the oval outside the ring of the makeshift track. A hive of children and parents chat on picnic blankets, the perfect circular sun basting their skin. Someone's fat Dad barbeques oily sausages and a burgundy kelpie pecks at a barefoot ankle. A student teacher trips spraying blue, red and green competition ribbons onto the grass. Away from the field, Mum covers her daughter in a smear of thick sunscreen. Alma accidentally licks her lips tasting the bitter cream. Closer to the field, Mr. Hutton is perking up the under 10's boys who swarm in a huddle of tight blue short shorts and masculine chants. Over the loudspeaker, a voice calls for the boys to the starting line. The huddle claps and breaks, the boys hurry over to their starting points. Mum and Alma wink at each other to confirm the plan. Alma feels a spark of excitement in her stomach.
"Carn Steve!" A heavy vote calls from the horde of parents. The teacher with the gun lifts his hand in the air. The boys rise from their back knee. Then a finger hits the trigger. Bang. The boys are off. Alma rises from her picnic blanket and runs to the track to meet the pack of sweaty foreheads and whizzing legs. She passes two boys with bewilderment painted on their faces. Behind a soundtrack of rumbling boos and indignant gasps, Mum shines a smile and Grandma gets to her feet, knocking over her plastic cup of raspberry soft drink. Another boy falls behind the dust of Alma. The finish line is closer and just one more boy to beat. She exerts herself forward. The irritated crowd on the cusp of the track, Mr. Hutton's swearing face, the brown brick school all blur into blotches of colour. She meets the other kid. The hot skin of his arm brushes against hers. She lunges, she leaps. Alma propels herself over the cones and lands on her back. Mum and Grandma cheer. Alma looks up, the rest of the boys pant across the finish line. She's won.
____________________________________________________
Caitlin Farrugia is a teacher, writer and producer from Melbourne, Australia. Her pieces embrace themes of gender, feminism, social class, sexuality, motherhood and the social worlds of children. She has previously been published with Verity La, Squawk Back, Queen Mob's Teahouse, Underground Writers and Pink Cover Zine. You can follow her at caitlinfarrugia.com and @ohuniverse.
Photo courtesy Stocksnap.