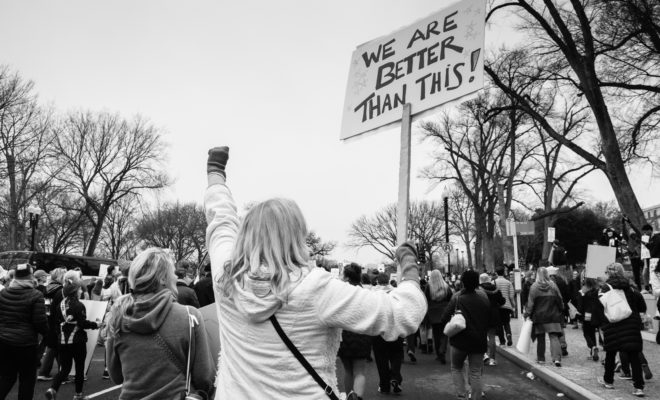 They Did March for Me
|
BY PAULETTE LIVERS
As we settled into bed on the Sunday night after the January 21 Global Women's March, my husband read a post that had been shared on a family member's Facebook page. The gist of the post was that several million women, men, and children who marched did not speak for the post's original author, Brandi Atkinson, about whom I've been able to find little.
Now, I come from a large family containing every brand of spiritual beliefs, gender preference, and political persuasion. We're spread around the country, but manage to get together fairly regularly and, by avoiding intensely political conversations, we are generally affable and fond of one another. Yet after my husband and I turned out the lights that night, I laid awake for hours, my thoughts racing.
Should I:
comment on the piece (which my relative had shared, not authored),
block this beloved relative's future posts (which not only feels passive aggressive but runs counter to my belief in the necessity of healing our country's dangerous red-blue rift through open respectful dialogue),
try to figure out why the post bothered me so much, or
explore the genuine feelings of someone who views our nation and our place in the world differently from me, with the aim of finding respectful dialogue.
It took me several days to decide that option 3 — deciphering my emotional reaction to the post — had to precede option 4 — learning how to become aware of the origins of my fellow citizens' beliefs and feelings, when to respond with respect, and when to let go.
What came to me was that all those women and men who marched around the world on January 21 did march for me. They marched for me when I was too sick to march for myself. I am in treatment for breast cancer. I'd had two good days in a row, and Friday night my husband and I had excitedly planned to attend the March, where we would meet our group, what time, the best public transit route.
But each day is an exercise in acceptance of whatever reactions to chemo decide to show up. I woke up January 21 laid low by a deep chest cold (I'm also being treated for two lung diseases). My husband reminded me that the oncologist warned my white blood count would reach its nadir ten or so days after chemo, coinciding exactly with the Women's March. I spent most of the day in bed, receiving periodic texts and photos from friends at the March, which in my adopted city of Chicago was 250,000 strong.
Was every person there, every sign hoisted, an issue that spoke to the coming challenges I feel most passionate about? Not all, of course, but many were. Among them, the new administration's commitment to:
repeal constitutional protections guaranteeing a woman's right to determine her own medical treatment;
bar entry of refugees on the basis of religion and nationality, even though immigration attorneys are on record that it's hard to imagine ways to make the current two-year vetting process more stringent in ways that will guarantee more protection of US citizens, and in fact decades of experience and war demonstrate that more Americans will be put in danger from extremists by such actions, not to mention that this past weekend's executive order doing just that goes against the founding principles of our beloved nation;
and repeal of the Affordable Care Act, to be replaced with we know not what, an action with vast consequences that will deprive millions of essential care, an obligation my spiritual convictions tell me we must not shirk.
I will not deny the shortcomings of ACA. But I believe that a wealthy, intelligent country like ours can revise what we have to make it work better by:
Stiffening the penalties for those who refuse to participate, so that they are at least equal to the annual premiums of a basic policy. The failure of healthy individuals to join the pool is largely responsible for increased premium costs.
Creating firm guidelines and obligations for all insurance companies to offer decent, humane, affordable polices, and to share the wealth created by the commodification of healthcare, to stop the penurious practices that deprive the poor as undeserving and reward the wealthy.

And lastly, insisting that the US Senate and House of Representatives permanently abolish the provision providing them lifetime health insurance, for which we all pay, and agreeing to purchase their insurance the same way we do: by going on the market, turning to ACA and state-run exchanges, paying their own premiums, for life. When they reach the appropriate age, Medicare is there for them.
Since learning I had breast cancer, I've reached a new level of gratitude for things I often took for granted. I have a warm home, food in the refrigerator, a family who loves me, a life partner who will do anything humanly possible to support me through this journey. And I have health insurance that, since the Affordable Care Act was passed, cannot be denied me because of pre-existing conditions, cannot charge me more because I'm a woman, cannot use the results of the genetic testing requested by my doctor to help her provide me with better care. For now, that is. As of the inauguration of the new president, we may soon find all that gone. We may wake up in the wealthiest nation on earth — the only developed country in the world — which does not believe healthcare is a basic human need, no less important than food and shelter, but rather treats it as a commodity to be doled out only to those who can pay for for it.
So there's my work on discovering why Brandi Atkinson's post wrenched my gut so hard. Now comes the work of finding empathy and understanding and being open to respectful dialogue.
I'm happy that Brandi feels like an empowered woman in control of her body, of her speech, and so much more. I wonder if she has found her own path to gratitude, if she has taken stock of our country's history of protest, a wonderful tradition enshrined by our founders, and if she has gratitude for legislators who listened to us when we demanded they protect our right to vote, to speak freely and publicly, to consult with our doctors on medical decisions and make choices to take care of our bodies — choices that have nothing to do with governing bodies or anyone wanting to restrict our bodily privacy — to name a few of the changes that came about for women in the last hundred years, rights that had always belonged to men.
I hope to hear from many of you, on all sides of any issues you feel passionately about. In more ways than one, I am ready for the healing to begin.
Note: AllenBWest.com is a website administered by Lt. Col. West of US Army, decorated officer, one-time congressman, Fox News commentator, and current Executive Director and Chairman of the Board for National Center for Policy Analysis, a 501(c)(3) nonprofit nonpartisan public policy research foundation. According to AllenBWest.com 'They Didn't Speak for Me" was originally posted on a Facebook page, Conservative Women Rock, with the author identified simply by the initials "SH." Later a woman named Brandi Atkinson claimed to have written the piece in response to a Facebook post by a contributing editor at the alt-right Breitbart.com, Milo Yiannopoulos. Yiannopoulos's next book, coming from Simon and Shuster's imprint Threshold Editions, was considered so incendiary by author Roxanne Gay that she pulled her own next book from Simon and Shuster.
---
Paulette Livers is the author of the novel Cementville (Counterpoint Press), which received the Elle Magazine Lettres Prize, and was a finalist for the Center for Fiction's Flaherty-Dunnan First Novel Prize, the Chicago Writers Association Book of the Year, and the Kentucky Literary Award. Among recognitions for her creative work are fellowships from the Artcroft Foundation, Aspen Writers Foundation, the Bedell Foundation, the MacDowell Colony, Ox-Bow Artist Residence, Vermont Studio Center, and Virginia Center for the Creative Arts. In 2016 she was awarded a generous artist's grant from the City of Chicago's Department of Cultural Affairs. She has worked as a painter, illustrator, and book designer for publishers around the country. After many years of clandestine writing, she earned the MFA in Creative Writing at the University of Colorado, where she taught creative writing, worked as a speechwriter to the Chancellor, and curated the University's reading series. The recipient of the Meyerson Prize for Fiction, Paulette's work has been honorably-mentioned or shortlisted for the International Bridport Prize, Lamar York Prize, Hunger Mountain's Mosher Prize for Short Fiction, Red Hen Press Short Story Award, and Writers@Work, and has appeared in many journals. Recognition has come from Center for the American West, Community of Writers at Squaw Valley, Denver Women's Press Club, Key West Literary Seminars, and Poets & Writers. She teaches at Story Studio Chicago and is Creative Director at Mighty Sword Studio, specializing in fine book design, editing, and helping writers and artists bring their work to the printed page. She is at work on her next novel. Please visit www.PauletteLivers.com.