Once a Boy: Paintings by Sherman Finch
|
 

Once a Boy
Once a Boy is a series of paintings that explores the lost tradition of a boy's initiation into manhood through masculine rites and rituals. The images from this series are taken from an old shooting manual once owned by my grandfather, who used it to teach my uncle about responsibility around guns. I started this project as a young man in my twenties, when I reflected on my own upbringing and started to question the blurry lines that separate boyhood innocence from adult responsibility. I was especially interested in the fact that for men of my generation, there was not a formal rite of passage that symbolically marked the moment when a boy becomes a man and transitions into adulthood. This series was never finished. Now, twenty years later, I have returned to this project—as the father of a rambunctious little boy. When I started the series, I couldn't relate to the father figure, and now, I am that father figure.
In my work, I use the act of "learning how to shoot a gun" as a metaphor for how a boy enters manhood. Boys are naturally curious and attracted to firearms. I experienced this fascination as a child and witness this in my son who is obsessed with toy guns, swords, action figures, and such.   This series, however, is neither a comment on gun control or support for gun advocacy. Instead, the gun in my paintings is a symbol—it represents something that is threatening, dangerous, exciting, and powerful. It points outward to a void—the unknown future. Part of my process involves chipping away at the wooden canvases, mimicking the tearing away of innocence and forewarning of the damage that can be created by the power of the gun and the harshness of reality that comes with this responsibility. While the black and white palette represents nostalgia for old ideals and traditions, I am also interested in how we can start to tear away from the past and uncover new rituals that are more appropriate for young adults today.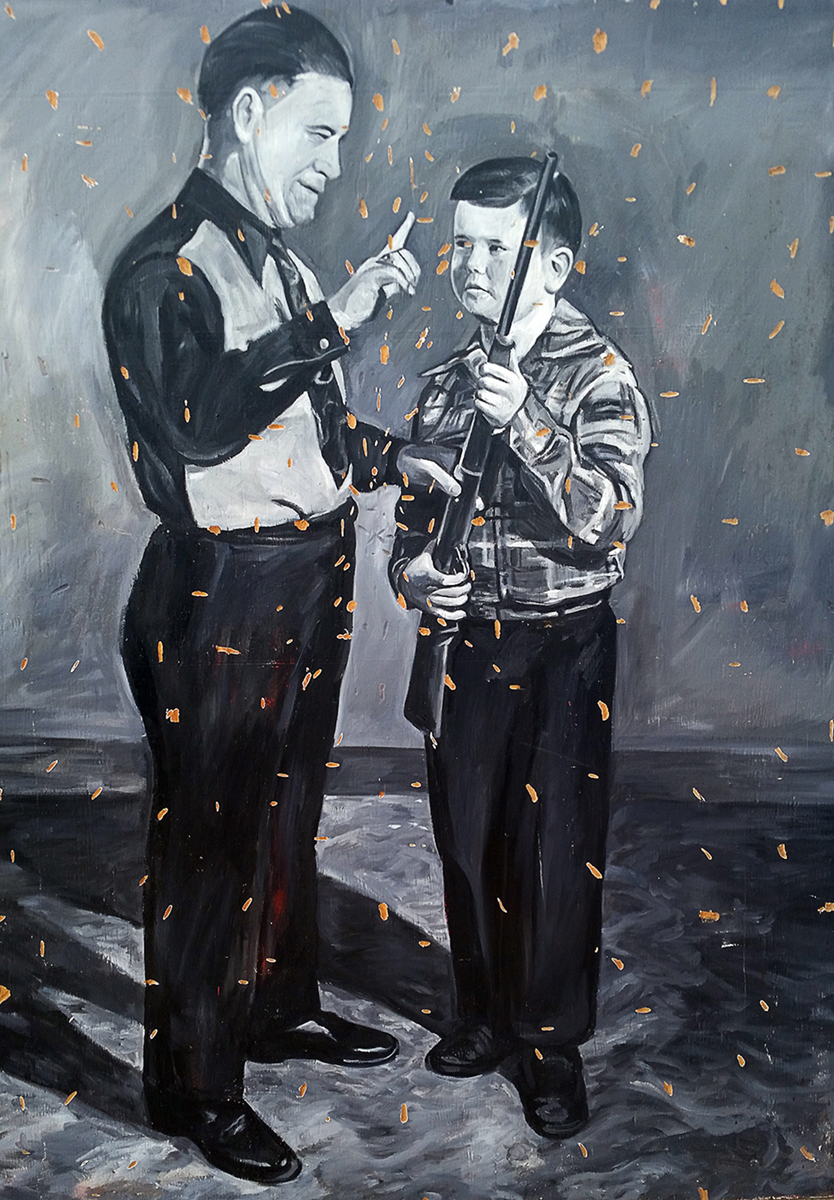 SAFETY FIRST, 4×5'x4″, oil on wood panel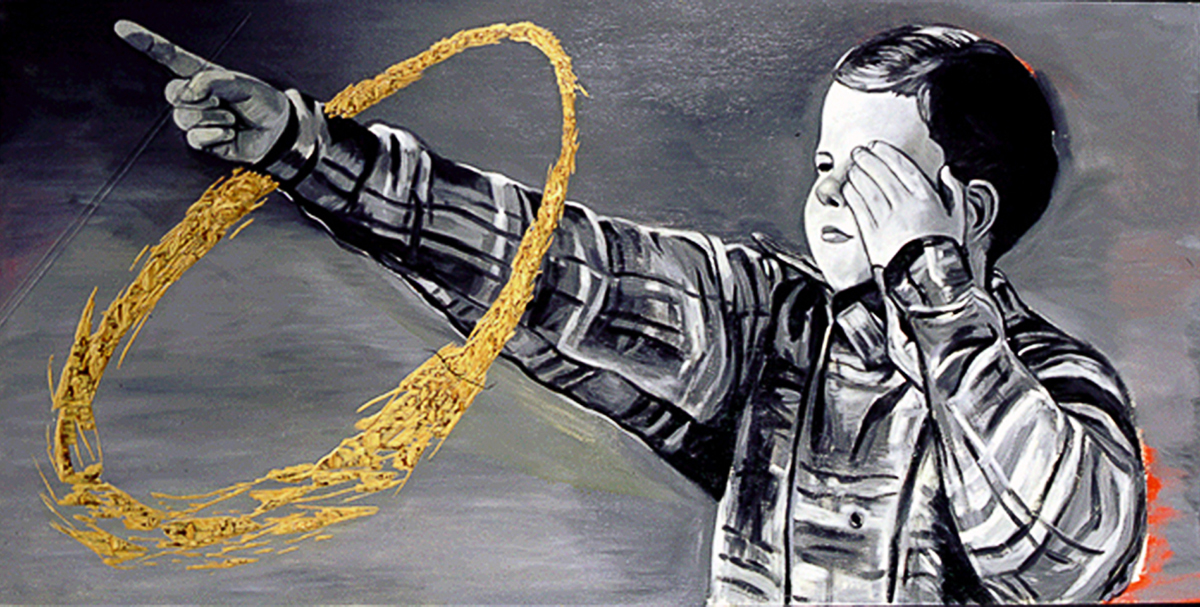 VISUALIZE YOUR TARGET, 4×8'x4″, oil on wood panel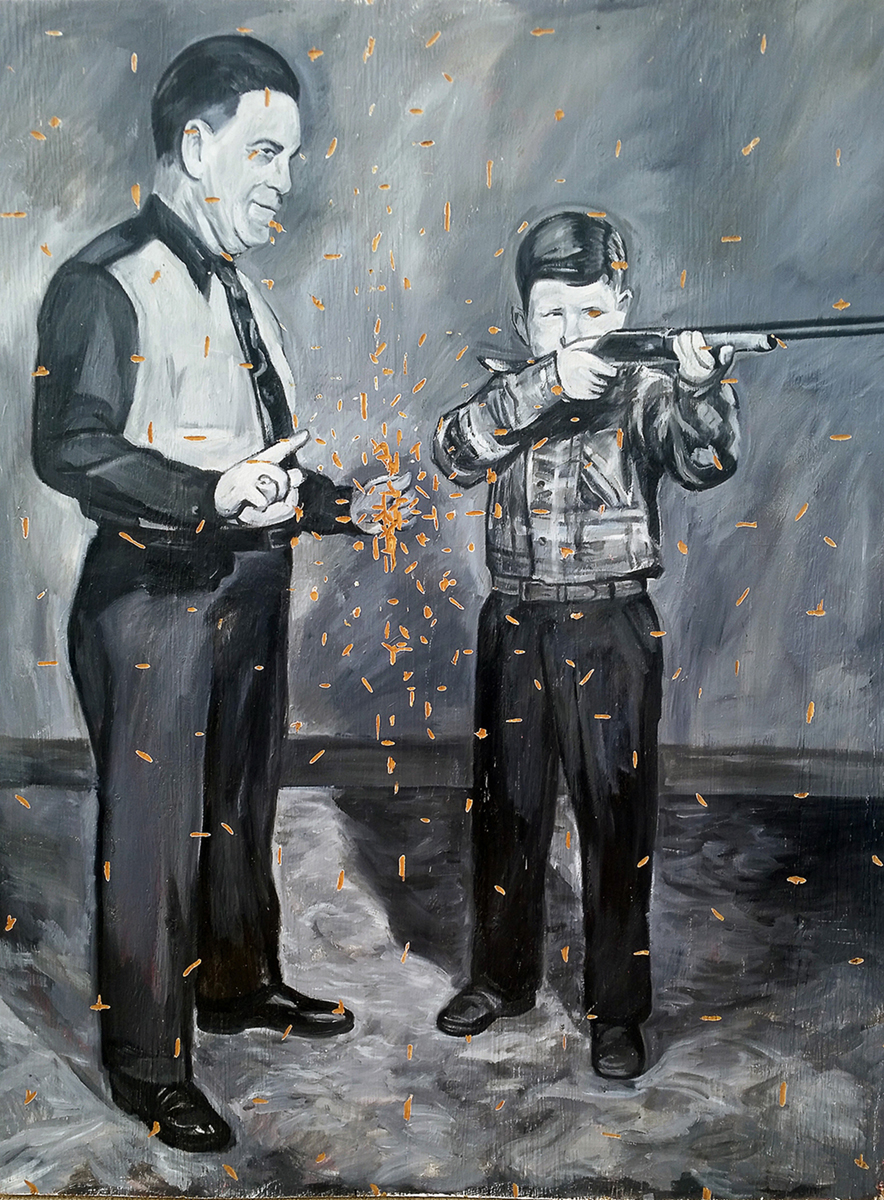 KEEP YOUR FINGER OFF THE TRIGGER UNTIL YOUR SITES ARE ON TARGET, 4×5'x4″, oil on wood panel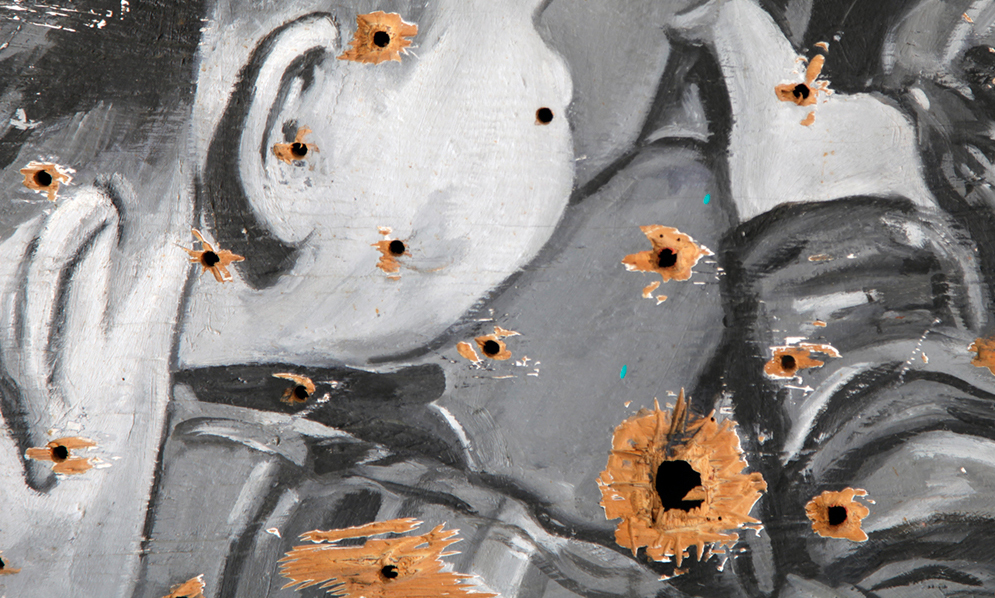 BE SURE OF YOUR TARGET AND WHAT'S BEYOND IT, 2×4'x4″, oil on wood panel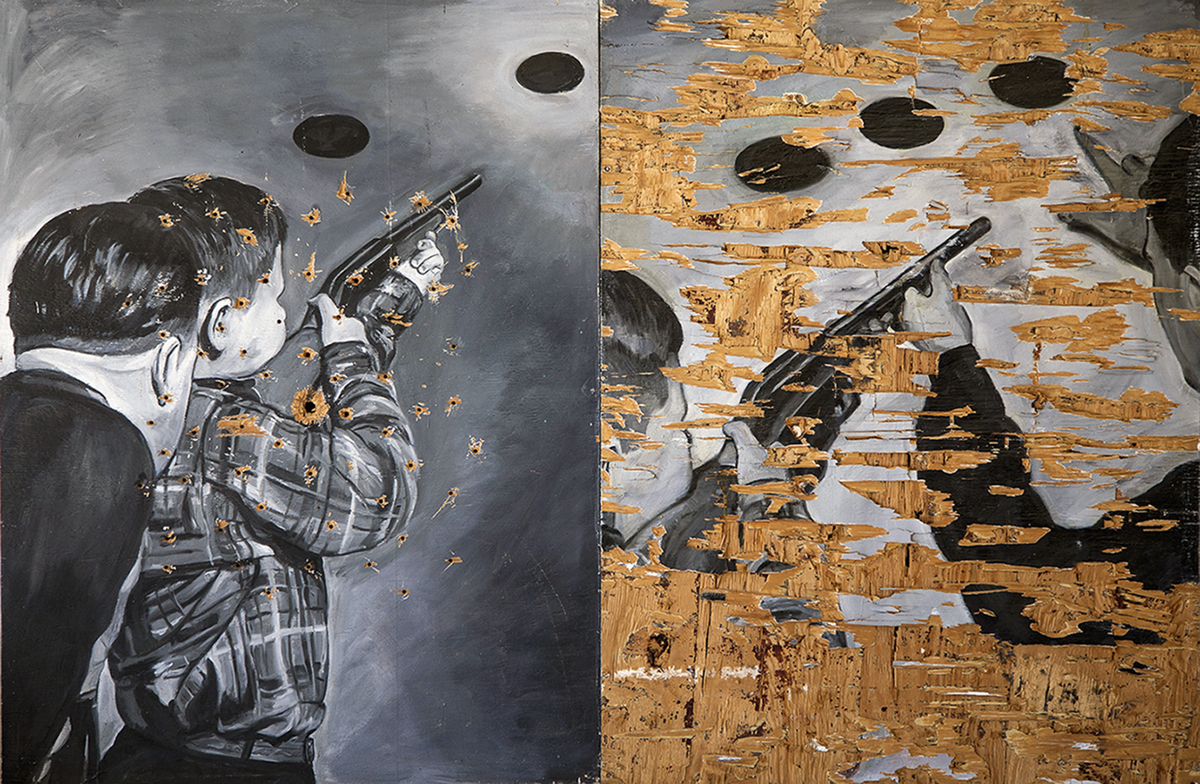 HOLD STEADY, 3×4'x4″, oil on wood panel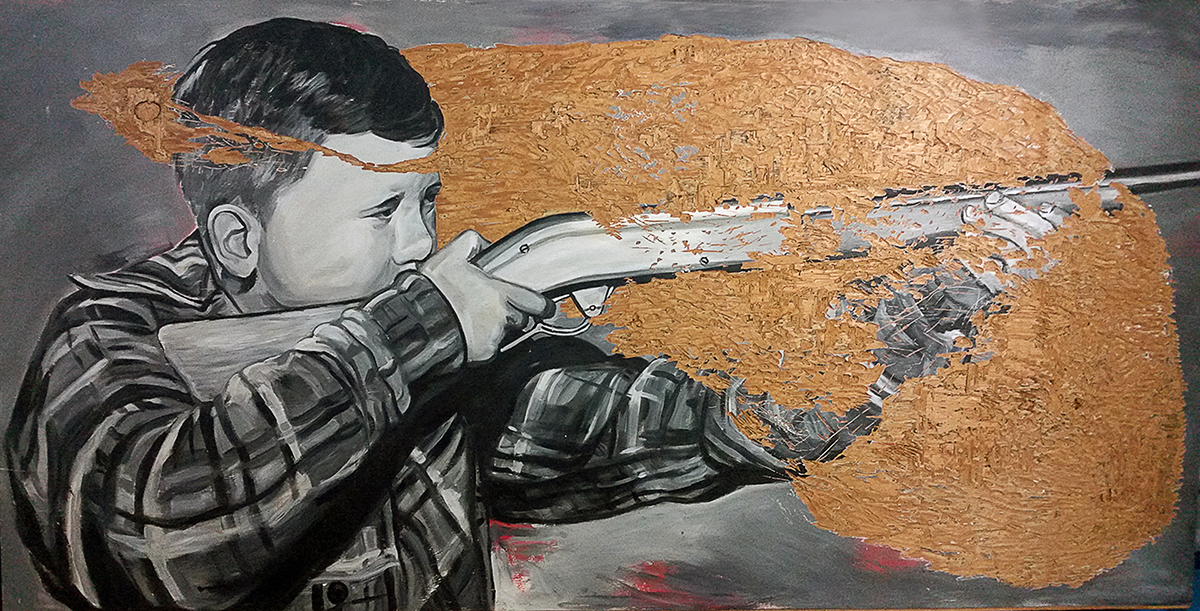 DO NOT POINT THE FIREARM AT ANYTHING YOU ARE NOT WILLING TO DESTROY, 4×8'x4″, oil on wood panel

___________________________________________________________
Sherman Finch is a multi-media artist who works in both traditional and digital media. Using a variety of tools, media, and approaches, his work involves deconstructing and re-contextualizing forms and images to create new meanings and challenge the viewer to reconsider traditional conventions about the visual experience. He received a BFA from the Rhode Island School of Design and two Masters degrees from the Maryland Institute, College of Art: an MFA in Painting and an MA in Digital Arts. His work has been exhibited, performed, and screened at venues such as Artscape (Baltimore), School of the Visual Arts (NYC), Art Interactive Gallery (Boston), Lawndale Art Space (Houston), Sarai Media Lab (New Delhi), New Museum of Art (Detroit), Amarillo Museum of Art (Amarillo), 500x (Dallas), among other places. Sherman grew up in Texas and after a twenty-something year hiatus, he is excited to be back in the Houston area, where he lives with his wife and his two kids.