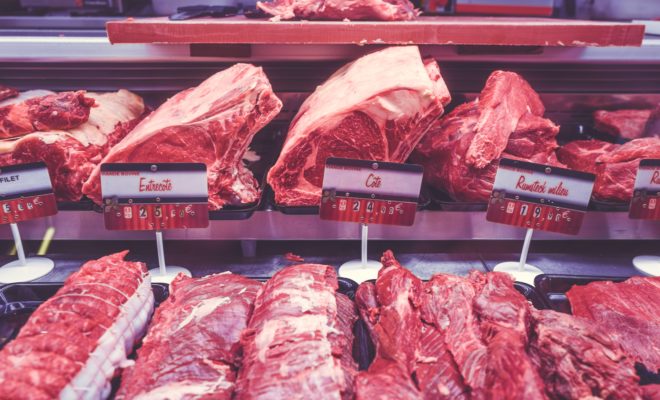 Meat
|
By Jan Worth-Nelson
First Monday out of a job, I slip on sweat pants and go for bargains at the 24-hour superstore. I decide to go out there at 8 a.m., while my poor former colleagues slurp the first bitter joe from the contested grimy pot, with the stained list tacked above it: who bought filters when, who bought the grind — an unending source of spite, that coffee pot, hunkering on its unclean shrine to the joke of human perfection. Yeah, I know exactly what they're doing in that utopia I just departed, downsized. I see my colleagues hoisting their heavy cups, each bearing brave little claims to personhood — Number One Dad, or A Woman's Place is at the Top, or Life is Just a Chair of Bowlies. I see my colleagues getting jacked up to do what somebody else wants them to do, over and over again, until long after the coffee pot has gone off automatically and all of them refuse to make it again because it's not their turn.
It was probably my turn.
But now, I'm free. I light out on my own, my undone hair pushed back behind my ears, the car starting up easy, and it's like I'm riding a pony down Liberty Street, window wide open on the driver's side, September air outrageously sanguine and clear.
Then I turn into the massive parking lot, dry crumbling asphalt yawning in all directions, its early morning emptiness hollowing out my little compact of joy. A gull way out of seabird territory picks at a fast-food bag. It flies up and out with a French fry in its beak. And this feeling starts tickling at the back of my throat.
It's been a while — six months, I guess — since my drunk ex slipped away to some beat-up trailer park a couple of hundred miles from here, fracking for big money and cursing my name. He took the cat — out of spite, I figure, because he never even liked the dirty white-haired critter.
But I said that was okay with me, all the better to be free of cat shit, husband shit.  I said I was glad.  I was glad. But then, this itch. Now it's an itch at the nape of my neck, sometimes an uneasy sparking in my fingertips.
I've never been here this early. Inside the acres of aisles I have the place to myself, except for the first-shift crew. They look at me as if customers aren't supposed to be here. I'm okay with that.  I'm just looking for half-price deals and a couple of basics. Besides, didn't I give up fake friendliness the last time I passed through HR?
But I'm slipping.
I want meat. Something for supper to fill me up. Maybe I have iron-poor blood.
I'll make spaghetti, meatballs for the sauce, let it bubble all day. That sounds good. Pasta-loading is supposed to be good for the soul. I need to make something, something good to eat. I need my kitchen. That will feel good. The comfort of heavy pots awaits me. There's that cast iron fryer from my grandma. It's in the cupboard somewhere. Good, good, good. It's all good.
At the gleaming counter, a woman butcher in a paper hat and blood-streaked apron puts fresh ground round in the glassed-in case. My mother always said, buy the middle — not all fat, and not all lean. Maybe she had some answers after all. I order the medium grade.
To my surprise another woman appears, discreet paces behind, pleasantly waiting, no make up, appealingly unkempt. Maybe this is our secret luxury, the slothful getup of people who stay home all day.
The woman butcher scoops up beef, then stops abruptly as she sees the scale.
"It's…$6.66. " She whispers it and looks at me as if to beg forgiveness.
The quiet woman behind me gasps and we three look again, a worried coven, at the digital total. It's clear. The number's in red.
$6.66.
There's a pause. A little squall of dread blows in.
I'm supposed to breathe now. I make myself take it in, take it in. My ribs fight back, as if they want me to hunch and slink away. It's just a number. But what if? What if something's out to get me?
My lungs shrink from the orders I'm handing out. I force a deep breath and hold it in, hoping the air will fill my heart and brain and fight dark juju.
The scoop dangles like fate from the butcher's hand. Shouldn't she add just a little more? Or lift off a finger-full? She stands there, poised and anxious.
Then my breath bursts out all at once like a popped balloon, making the butcher and the woman behind me jump.
"Six-six-six," I finally croak.  "Is that the Damian special?" It comes out louder than I expect. I laugh. I say that's just how much I want. White paper crackles around the meat, the sticker slapped on fast. The butcher hands it to me over the counter and we meet eyes. A smile stays plastered on my face.
"Don't worry, hon," the butcher says. "Six-six-six is a bad number for a man, but not for a meat."
"You know that's right," the woman behind me says.
"Oh yeah," I say.
And so I make the omen mine. I make it lucky. I take my meat and head for home.
---
Jan Worth-Nelson taught writing at the University of Michigan-Flint for a quarter century. Retired from academia, she is now editor of East Village Magazine, a Flint-based monthly publication. A former newspaper reporter and Peace Corps volunteer, she is the author of the novel Night Blind. Her work has appeared in Christian Science Monitor, Contemporary Michigan Poetry, Fourth Genre, the Exposition Review, the Los Angeles Times, the MacGuffin and Midwestern Gothic, among others. She commutes between Flint and San Pedro, CA.