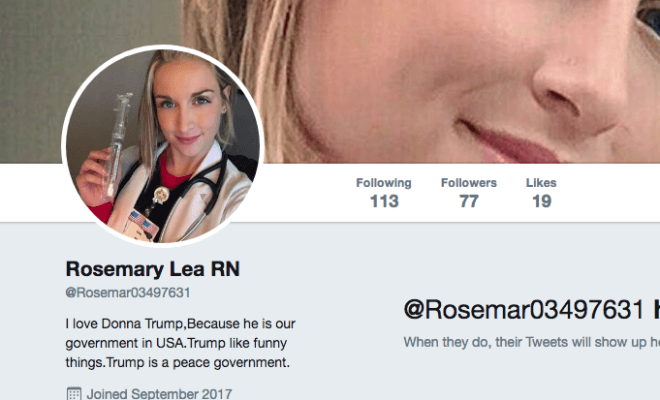 Hypertext Interview with Twitter Sensation Rosemary Lea RN
|
By Romaine Fish
Twitter sensation Rosemary Lea RN (@Rosemar03497631) wore a simple yet elegant Prada pantsuit with a cheery Hermes scarf tied jauntily around her neck. Since finding her on Twitter in early September, I'd been waiting impatiently to interview her, to dig into the finer points of being a celebrity nurse, her dizzying rise in the world of social media, funny things, and her 76 followers.
Her 'vacation' flat, somewhere in Moscow (I'd been blindfolded since a car picked me up from the airport), was decorated in what I soon learned was Rosemary Lea RN's signature style: lots of American flags draped over '70s modern furniture. One particularly large flag obscured a huge mural of someone who looked suspiciously like Vladimir Putin.
The flat smelled of cinnamon and something else indefinable. Chanel, perhaps? No matter. Rosemary Lea RN was as gloriously blond and blue-eyed as her profile pic – only more stunning in person (if that's possible). Pastries from Khleb Nasushchnyy Bakery (her favorite!) were melt-in-the-mouth delicious and, although the tea was watery, it didn't dampen our festive mood.
Hypertext Magazine: Hey, Rosemary Lea RN.
Rosemary Lea RN: Zdravstvuyte, person from Hyperbolic.
HM: It's Hypertext.
A long pause ensued wherein Rosemary Lea RN studied her well-manicured fingernails.
HM: You are a nurse in a small town in Tennessee, is that right?
RL RN: Da.
HM: But you have a flat in Moscow?
RL RN: Da.
HM: How exciting.
RL RN: Da.
HM: In your Twitter profile pic, you wear your signature American flag pin, a cute pin of an animated character that actually looks like you (!), and you're holding what looks to be a giant, plastic-wrapped syringe.
RL RN: Da.
HM: That thing could sedate a horse.
After another long pause and an extended eye roll from Rosemary Lea RN, I finally asked the burning questions I'd been waiting to ask since following her earlier this month.
HM: Your Twitter profile reads:
I love Donna Trump,Because he is our government in USA.Trump like funny things.Trump is a peace government.
Just to be clear here…we're talking about Donald Trump, yes?
RL RN: Da.
HM: And that thing you do where you don't use spaces after periods and commas…that's intentional, right?
RL RN: Da.
HM: Tell me, Rosemary Lea RN, did you always love Donna Trump?
RL RN: Da.
HM: What 'funny things' are your favorite funny things?
RL RN: When Donna imitate the funny man.
HM: You mean…Serge Kovaleski, the reporter who is disabled?
RL RN: Da.
HM: Okay. What else?
RL RN: When he talk about blood.
HM: You mean…when he said that Megyn Kelly had 'blood coming out of her wherever'?
RL RN: Da.
HM: And something else about Mika–
RL RN: Brzezinski. Da.
HM: Okay. Anything else?
RL RN: When he say grab them by the cat.
HM: Oh.
RL RN: And when he say Mayor of foreign country San Juan nasty.
HM: Just to be clear…Puerto Rico is a US territory.
Rosemary Lea RN sighed deeply.
HM: Okay. Let's move on. One of your followers is a purported Breitbart contributor (although I couldn't find any evidence of that) #MenendezTrial with over 105K followers! He was called "One of my most faithful" by Newt Gingrich. Well done, Rosemary Lea RN!
RL RN: Da.
HM: And, of course, a lot of your followers use MAKE AMERICA GREAT AGAIN!!! in their profiles…and make creepy threats…and call women 'old hags.'
RL RN: Da.
HM: And DickleDockle's profile proclaims: As avaricious for knowledge as an Ichneumon fly for crocodile eggs. That's quite a statement, eh?
RL RN: Da.
HM: One of your followers, Mike Allen, with over 80K followers, re-tweets confirmed fake news sites including yournewswire.com and thegatewaypundit.com. He's a spitfire, isn't he?
RL RN: Da.
HM: So…why no Tweets, Rosemary Lea RN?
Rosemary Lea RN takes a bite of a particularly crumbly sweet and makes a big show of brushing crumbs off her scarf.
After one of her longest pauses yet, I try another question.
HM: You say that 'Trump is a peace government.' By that, do you mean that he wants peace with countries like, say, North Korea?
RL RN: Da.
HM: And what do you make of all of this talk about Russian interference in the United States election?
Before she can answer, a burly man with a very serious expression stands squarely in front of me. He ticks his head toward the door. I thank Rosemary Lea RN for graciously welcoming me into her home before being hastily escorted to an awaiting car and a swift drive back to Sheremtyevo International.
Follow Rosemary Lea RN @Rosemar03497631