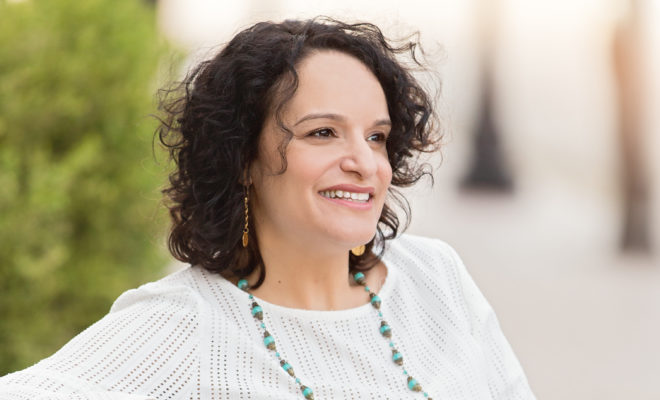 Hypertext Interview With Sahar Mustafah
|
"Boy can she write."
That's what author Patricia Ann McNair said about then-grad-student Sahar Mustafah. We were agonizing between two of Sahar's stories (we could only publish one, damnit) to include in our Department's student anthology. Sahar's work wasn't making our decision easy.
Lucky for us, Sahar's ability to capture fleeting moments of beauty and despair, her awareness of the world's imbalance of power, her lyrical language – all the things, and many others, she possessed as a grad student many years ago – have been honed to dangerously sharp points in her debut short story collection Code of the West (Willow Books).
As a reader, you need to understand this: once you dive into one of Sahar's stories, you'll be swept away. There's no coming up for air until the final word.  So take a deep breath and get ready.
I caught up with Sahar before the start of her hectic school year – she's a high school teacher – and the publication of Code of the West. And, if you want to catch Sahar's book launch party, it's tonight at 7:30 at Women & Children First, Chicago. Find out more HERE.
CR: Many of Code of the West's characters are Americans of Palestinian descent who have been marginalized or misunderstood. Other stories are set in Palestine. In the story "Masculine Verbs", the hopelessness of your characters' situations is overwhelming.
Emad, a school boy, is trying to make sense of his senseless world. You write:
The stench of sewage in the refugee camp was like rotten cabbage and it filled every pore and fiber of Emad's body. He closed the metal security door behind him when he entered his beit and the odor of the majarri still clung to him like a gauzy veil.
Later, Emad wakes his sleeping brother, Khamis, a once promising student, who has fallen into despair after being arrested at a protest and held in an Israeli prison.
"All I smell is that sewage," Khamis said, barely audible. "All the shit and piss running outside the beit, between every other beit. It doesn't matter where I go, that majarri flows inside me like my own blood. I stink of it.
The plight of the Palestinian people has long been marginalized (or completely ignored) in this country. Most of us know little of Palestinian daily life. This story gives readers a glimpse into the often deplorable conditions of the refugee camps. Can you talk about how this story evolved?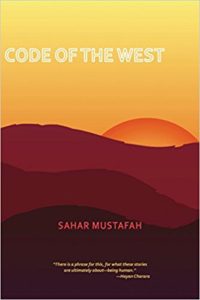 SM: Interestingly, the story was originally from the perspective of the woman in the car, giving a blow-job to a member of the Palestinian Authority. During a workshop, I experimented with another point of view and this story suddenly became more urgent to tell. It allowed me to offer a glimpse, as you call it, of a perpetually silenced, occupied population. I'm sensitive to the larger challenge of authentically depicting Palestinians without reducing them to propagandistic fodder or appropriating their daily misery. This story felt like an honest representation of Israeli oppression and corruption of the PA.
CR: Many of your stories deal with Westerners' misunderstanding, hate, or fear of Arab traditions, customs, and people. At this time in our nation, with so much fear-mongering, your stories are incredibly relevant. Why is fiction essential at this time in our nation's history?
SM: Stories are powerful because they very naturally and quickly reveal our humanity in the least threatening way. And fiction might be the most engaging platform to share truths as much as nonfiction works. A flipside to art that emerges in such a terrible climate of bigotry and fear is the danger of a singular narrative–a token narrative of Arabs and Muslims. I'm hyper-aware of this. My characters and their lives are more incongruous than similar–this is reality.
CR: You are the daughter of Palestinian immigrants. Am I right to assume that your experience as a first-generation American, with family who worked 24-7 in their stores (as did my extended family), might not have provided you with many writer role models? Regardless, how did you come to love books, to become a writer?
SM: It's amazing, isn't it, how people like us turned out to be readers and writers! I can't recall when I was first drawn to books as much as vivid experiences I had with books like an illustrated copy of Treasure Island and the Nancy Drew series. Books, for the most part, were accessible in my early childhood classrooms. I was also fortunate to have teachers who saw my interest and ability and challenged me with rigorous reading. I look back now and realize I must have advocated for myself, too. My parents were proud of my academic intelligence, but their aspirations centered on medical or law professions (such a common dream of immigrant parents!). I know I disappointed them on some level when I chose education and writing!
I loved to write as early as the 2nd grade…I saved up one summer for a blue Corona typewriter from the Sears department store and composed stories that I'm certain were pretty mundane, but one impressed a friend of my mother. It gave me an inkling that I at the very least I was a proficient writer. Still, I hadn't conceived of an existence as a writer until much later in life.
In terms of literary role models, I'm grateful to my older sister who first introduced me to the work of Hanan Al Shaykh, a Lebanese writer. I had already been following Naomi Shihab Nye, a Palestinian American poet and educator, who showed me there was a space for Arab women writers.
CR: My mother always took me to the library and there were plenty of books to read in my house. I loved the Nancy Drew series too. I was lucky enough to write and make books of my stories in second grade. Looking back, that might have been a turning point for me.
So many of the phrases, terms of endearment, food, and beliefs you write about are very similar to my experience as the granddaughter of Lebanese immigrants. In the story "Perfect Genes" the main character finds out that her father has a child by an American woman, before he married the narrator's mother.
You write:
"I can't believe it, Ma. How could he do that? How could you let him abandon her?"

My mother is startled by these questions, and for the first time she sees my dismay. "Why are you upset, habibti: Between you and me, she was better off without Baba. Your father was not an easy man when he first came to this country. He seemed to have forgotten his religion and did haram. Drinking, gambling, Elhamdulillah he straightened up before I met him." She sits again at the table and examines her fingernails. She scoops bits of meat out of them with her longest pinky nail.
This situation, of the close-knit immigrant community mixing with Americans, is something my mother often talks about. She says, "Lebanese men might stray but they never leave their wives." It's this old-fashioned thing they believe, they cling to. These 'old ways' and 'new ways' clash in many of your stories. There is a tension between wanting to be more American and holding on to traditional beliefs and customs. Can you talk about how that tension fuels your narratives?
SM: Ah, concessions women are expected to make! At 44, I've grown more sensitive to what appears to be submissiveness on the part of Arab and Muslim women when it's really about survival. And that requires strength.
That tension you speak of is really the best stuff of our stories, isn't it? That tension is precisely what I enjoy exploring. I'm so interested in how the boundaries of assimilation and preservation bleed together, despite a family's best efforts. My characters are given opportunities to thrive, but are compellingly flawed. That is compounded by cultural and religious mores. The tension intensifies as characters satisfy their own instincts or give in to societal expectations. It's perhaps a universal conflict among all characters.
CR: As I mentioned, your collection is very much timeless but of the moment. What do you hope for Code of the West? Who do you hope might read it?
SM: Of course I would love everyone to read it! Since I began fiction writing, it's been hard navigating the hyphenated writer role in this country. I do hope it reaches the hands of those who have not actively engaged in Arab American literature and art. As I tell my students, stories are the mirrors and windows of who we are. This country needs more windows.
CR: You and Anita Dellaria edit the online magazine Bird's Thumb which is dedicated to finding and publishing emerging and diverse voices. Why did you and Anita start Bird's Thumb?
SM: Anita came to me when I was just wrapping up my MFA and it really helped me explore and balance this business of writing. Being an editor has humbled me a great deal; we treat every piece with respect and attention as we would hope our own work is being treated. But Anita and I understood the reality of the industry and we wanted to open up a space that gave emerging writers an opportunity to grow. I guess we were also tired of the slush-pile.
When we really love a piece that needs work, we take the time to collaborate with the writer. It's still just the two of us and a wonderful web designer working pro bono for BT. We're heading to our 5-year anniversary and will be releasing a poetry chapbook in the fall. We're experiencing steady growth and the journey has been rewarding for me. Anita is an awesome co-editor; she is meticulous and sees potential in almost every piece.
CR: You repeatedly mention (and certainly this theme persists throughout the collection) the Palestinian people's 'indomitable optimism.' In "New and Gently Used Hijab", you write:
Still, Iman found that these women possessed a pure kind of grace that made them forget their own dire circumstances and to turn their attention on her and ask through busted lips about Iman's mother and how her gallbladder surgery had gone, or whether her twin sons would be starting preschool soon. When the appointment was over they always said, Inshalalah Khair. Good things will come. And Iman found herself grateful for this indomitable optimism. It somehow made it easier to show up for work every day.
Can you talk more about how that optimism kept snagging your attention? How it manifests itself in America? In Palestine?
SM: That phrase is as ingrained in our daily language and sentiments as 'hello' and 'goodbye'. I would be chastised if I didn't attach the phrase in my grandmother's presence. It's like you're tempting a worse fate if you didn't utter the words!
I think any immigrant's experience is steeped in optimism and hope as one seeks a new life, in a new place. When you have nothing, hope sustains you no matter how depleted it gets in the worst conditions. That has always interested me: how human beings still manage to see beauty and possibility through the ugliness of oppression, loss, and death. What might be superficially perceived as weakness in the choices and actions of people by our standards I've discovered is actually strength when I consider their circumstances, from where they're coming.
For Palestinians in particular, optimism seems to be an inherent trait; we're a people exiled from our homeland and yet we persist and thrive anywhere in the world. When you've experienced a fundamental loss of identity and nation, you cling to hope or you perish.
CR: A number of your characters own stores. When I was a reporter in Detroit, I was sent out to talk to the Chaldean community about why they owned stores, their experience as store owners. They told me that many people in Michigan believed that people from the Mediterranean region come to this country with bags of gold. Few people know how difficult it is to own a small business – grocery store or a liquor store. My family owned stores too. Did your family own stores?
SM: Oh, yes! That's a common vision of Arabs living in the U.S. held by their counterparts overseas, this lavish lifestyle! You're right: owning your own business is very difficult. My brothers have inherited my father's grocery store in the Gresham neighborhood. We still might be a generation away from the last store ownership. For my father and his brothers, work was constant and exhausting. I recall only Sunday late afternoon did we get to see my father and "go for a ride." But it was all for us. My mom's dream home in Palestine was built though we didn't get to live there long because of the occupation.
CR: You studied at Columbia College Chicago. What is one thing (or a few things) that took your attention about the Story Workshop approach? What worked for you? What didn't? Who helped you along the way?
SM: When I was accepted to CCC's graduate program, I came with a great deal of insecurity and felt very much like a late bloomer. The Story Workshop was vital to generating the stories in my thesis work. The pressure of intense workshopping came later when, for me, I was ready for it. I didn't have to brace myself for a ripping session with each new piece.
I also thought I had a pretty good idea of the kind of writer I was before CCC, but that traditional, limited self-conception was blown apart. The Story Workshop gave me compelling starts and opportunities to experiment. I noticed immediately how much I'd been neglecting objects and space and how powerful they are to paving tension and illuminating characters interiorities.
Though I thought it was hard, the Steeple Chase set me on unexpected threads, and in the end I was grateful for the exercise.
Almost every course I had offered me something new and each instructor gave me the impression they genuinely enjoyed teaching and watching writers grow. No power trips, no big egos. I'm especially indebted to Megan Stielstra whose Story Performance class showed me the different facet of storytelling and that my personal experiences were worth telling. Your magazine editing class, Chris, was also terrific. It gave me the confidence when Bird's Thumb was born. And there's so much to be learned from others' voices.
CR: Tell me about Willow Books. Code of the West won the 2016 Grand Prize for Fiction, yes?
SM: Willow Books is an imprint of Aquarius Press, awesome folks out of Detroit. They've enjoyed ten years of discovering and promoting writers of color. I was fortunate for their annual prose contest and for the final judge, Ravi Howard's esteem in my work. I had no idea how much work goes into producing a book! And when you're an indie press, it's a labor of love. They are devoted to sustaining a space for marginalized voices. I hope I do their present company justice.
CR: You are a teacher, an editor, a writer, a parent. How do those roles influence your writing?
SM: I'm now the parent of two older, lovely independent daughters. I've imagined what the world will be like for them and am at once uplifted and disheartened! Their ages have significantly affected my writing time; I have the luxury of staying in bed on a Saturday or Sunday, for a whole day, drafting a chapter without interruption.
As a teacher, I've enjoyed bridging my writing practices to curriculum. Any act of writing is a creative one–academic, personal. My students and colleagues have been very supportive of what I call my "second life." I can still pay the bills and pursue this kick-ass career of writing.
As an editor, I like to think I'm able to transfer that critical eye, but it doesn't always happen! It has made me a closer reader of my own work and I'm more likely to cite those ugly sentences more quickly. Reading the work of emerging and established writers continues to inspire me and reminds me of the hustle of our art.