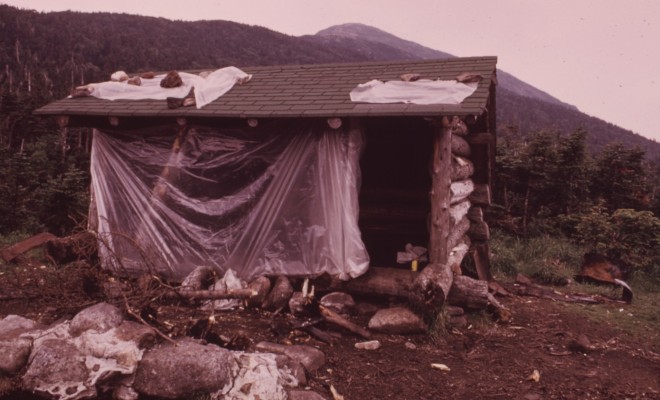 Gimme Shelter
|
For once my math was spot-on. Which wasn't so much of a surprise given I was just quoting back the cost of 330-square feet of ship-lap boards to the heir apparent of Sigfrigson Wood Products, henceforth referred to as son-woodsman, a figure father-woodsman had quoted me on the phone. My nimble arithmetic to answer the question, what do you think 330 square feet of ship-lap runs? momentarily impressed son-woodsman. Perhaps he wasn't dealing with such a rube.
"How are you attaching them? Any cross beams?"
Good questions. I studied the thin pencil diagram of the three-sided lean-to/tractor barn/wood shed/tool room. How was I attaching them? I set my hand on said drawing and swiveled it 180 degrees for his inspection.
He hunched over the diagram. He spoke of kiln dried 4 x 4s, and four twelve-foot pine-facing boards, lumber father-woodsman hadn't pushed over the phone. Perhaps it was the doodles of trees and flowers and birds dancing around the rudimentary line drawing that sparked the son-woodsman's imagination.
"Ship-lap is grooved, right?" I ask.
"Yeah, you wanna run them horizontal or vertical?"
I ran the tip of my pencil up and down. "Horizontal."
He ran his pen side to side. "That's horizontal." He eyeballed me and removed his brown cap, revealing his bed head. I'd gotten an early start. It was just past eight. "I'd do vertical. Keeps a tighter seal."
"Right. Vertical."
"These measurements right?" I nodded. "Let me figure what you need." He yawned, and then slid to off the counter to his desk.
The log cabin-feel of the office was what I'd expected to find at a small sawmill nestled in a lush hollow in Brooklyn, Connecticut. Winding Fitzgerald road lead me to their ruddy dirt driveway with posted signs warning NO TURNING and WIDE LOADS APPROACHING. Perched at the top of the slope stood one rambling building after another: father-woodsman house, his three car garage, connected by a pergola to the office, followed by long rectangular, drying barns and then two mills; their doors sprung open with mounds of saw dust. In the distance an idle yellow Dozier stood ready to resume clearing a thin forest of pine trees.
Son-woodsman tapped the order sheet on his desk. "Vertical gonna run 445 square feet. Okay?"
When I first imagined re-siding the lean-to I figured to buy three-quarter inch exterior plywood and then run clapboard over that, which I'd then have to paint every five to eight years. I also considered cedar shingles. Thankfully the man with the nail gun, compressor, angle saw, six foot level, and know how, brother-in-law Danny suggested ship-lap. When I emailed about cedar, Dan simply responded with dollar signs. Now Dan once bought a used transmission on eBay, and has booked his family vacation to the next nearest airport to save a few bucks, so I did my own research on the cedar. For a moment, I considered getting less wood; perhaps I'd replace just the really crappy brown composite paneling. And there was the little matter of my wife. Or is, the little matter of my lovely over-taxed post-c-section wife eye-rolling the entire project. Why is this a priority? After delivering this line, she pauses for dramatic effect, or simply to consider if I was this obtuse when she married me. I do pause for a moment to note it is four in the afternoon and she is still in her PJs, administering the fifth bottle of the day to tax-break number three, while our other two boarders do the Monster Mash on the floor above our heads. When she thinks I might be getting the drift, (she's never convinced that I am), she says. You have a crib to assemble, 200 lilies to plant, three flower beds to dig and a leaking barn, but the sorry lean-to is at the top of your list. Why is this a priority?
She was right. I was dialed in on a project that should have had its knobs removed. But I needed a Jotham project, not another of the farm projects: a five year plan of projects sketched and revised on roll after roll of tracing paper; projects grounded in an aesthetic, her aesthetic, that I am not party to. I have no problem with this. It's one of the reasons we left Chicago to start Muddy Feet Flower farm in rural Connecticut. I have admired her nimble mind developing the master plan these past twelve months; each time she walks the field the plan advances another crop, another row, another acre. Which I then must implement. The barn renovation was a year commitment that exceeded my abilities and bank account, the planting hurt my back and the results were a season, or in the case of the peonies, two seasons off, but the lean-to, my tractor barn and woodshed, was the obvious next step in my country living- do-it-yourself learning curve and was guaranteed to advance my basic-handiness and tool-development score, not to mention impress upon the 4000 inhabitants of our little hamlet, many of whom are working class Nutmegers, who, without fail, ask when I first introduce myself, "Why did you move to Ashford?" that I was not some trust fund city slicker, or former Wall Street rain maker who bought the big red house on the former Amidon Estate to experience some Michael Pollan-inspired rural jag of organic self-reflection, and in the process raise their property taxes. (Really, at the end of the day in rural America, it's all about property taxes. School fees and property taxes.)
The lean-to, the former owner's horse shelter, must be re-sided. The Rastafarian art sprayed painted on the back plywood dismantled. The piss stained particleboard demolished. It was my project, sketched on the back of a yellowed-envelope, and it would proceed.
I nod my head at son-woodsman. "Okay," I tell him. "445 sounds about right."
He yawns. "Delivery?" His hand hovers over the adding machine. I bet he could really use a Red Bull.
I had yet again, borrowed my neighbor John Rettenmeir's Ford pick up, thinking I would load up the wood now. Son-woodsman mumbles something about forty bucks. I think he's just piling on now. But it has started to rain. I've forgotten my gloves. What's forty bucks more?
"What kinds of nails do I need?"
"Either eight or ten penny galvanized iron nails," he said. "How you putting them up."
"My brother-in-law's nail gun."
"Need nails?"
"He's got them."
"What time do you need it?"
"Early."
The coffee-stained adding machine's buttons clicky-clack and the ivory roll of adding paper slowly meters out. A gray-bearded driver pokes his head in the office for a check that hadn't been cut. A woman wearing a Uconn sweatshirt delivers breakfast sandwiches wrapped in waxed paper. Neither makes eye contact. Son-woodsman rips off the curl of adding machine tape and slaps it down on the counter.
"Gonna be $663.20."
"My wife won't be pleased." He shrugs and turns toward his breakfast. Single men have no idea of the pressure.
I finger my wallet. "You take a credit card?"
Fast-forward five days to a chilly overcast November day. I have a 101-degree temperature and Dan shows up without any nails. Plus he thinks the rough-hewn 4 x 4s son-woodsman sold me are overkill for the twelve inch cross supports we need, so he starts forging through all the crappy wood in the barn for old 2 x 4s. I can't send him away because he's taken the day off work to complete the project. So post unloading, I'm back at the wheel, off to Willard's Hardware in nearby Mansfield to fetch a fifty-pound box of nails. I end up with five thousand galvanized nails for $65, packed in the heaviest square cake-shaped box I have ever lifted. My feet sink into the ground hauling it across the field. Danny has kept busy in my absence. Two walls of crappy siding have been liberated by his sledge and crowbar. He smiles at me and takes another swing. He's working outside, tool in hand, a skim of sweat on his back. He couldn't be happier.
The grand total for my first, completed project, minus the metal roof, (alas, the existing plastic roof was also total dumpster-dived shit material, too), and after weighing the cost of asphalt shingles versus wicked cool metal, whose actual cost I will conceal from my family, and you dear reader because of the preposterous notion I might have spent over $1000 on a roof that I will never see, on a building with only three walls, whose life-span, the literature promises, will far exceed my newborn child, so discounting the metal roof, the twelve pack of micro-brew I bought Dan, and three days of my time, the total cost of re-furbishing said lean-to comes to $728.02.
Starting a farm ain't cheap. The lean-to project was one of the cheaper projects of the year. We started our spending spree with a riding mower acquired from Craig's list (also fetched in John Rettenmeir's Ford), then came the Mahindra tractor with a matching red backhoe from Ellington Agway, plus irrigation equipment, broad forks, pitch forks, and one ton, literally a ton of crushed lime to raise the soil's PH. The craziest purchase was twenty yards of aged, organic Vermont compost. This was literally shit you could roll in. And then there is the stuff that goes into the dirt, the seeds, plugs, bulbs, and bushes: 20 tuberoses, 36 calendula, 36 celosia, 48 gomphrena, 50 mexican sunflowers, 72 ageratum, 72 nicotiana, 120 peonies, 150 dahlias, 180 rudebeckia, 288 snapdragons, 300 iris', 300 sunflowers, 400 alliums, 450 lilies, 576 zinnias, 1000 cosmos.
We have not suffered atrophy in the past twelve months. Suffered through poison ivy from April till Thanksgiving but not stopped moving. It's winter now, and the Northeast is experiencing a deep freeze, but still the new seed catalogs are piling up, and the tracing paper is again spread across my wife's desk. She's meeting with greenhouse owners and running an online logo competition. My two projects: deer fencing and irrigation, are months off, but I have to resist the urge to start planning too. I must keep to my desk while I have the time. I've planted a seed with this essay though I have no idea what will eventually flower. Writing is harder work than planting a seventy-two foot row or changing tractor oil. An essay or story has no set length, no set instructions, no germination schedule. It's a riddle that keeps me up these cold nights. But writing at home means our small farm is just outside the window. And every morning before entering my office, as I shuffle down the hallway to the coffee pot, I pause at the small rectangular window on the front stair landing and gaze over the white carpet of snow blanketing the flower field to admire the shiny pine lean-to with the evergreen metal roof, nestled in the far south-west corner of our property and dream about spring.
About the author…
Jotham Burrello is the publisher of Elephant Rock Books. He directs of the Publishing Lab at Columbia College Chicago. His writing has appeared in Drunken Boat, Eleven Eleven, Oyez Review and elsewhere. He currently resides in lovely Ashford, Connecticut with his farmer wife [find them at muddyfeedfarm.com], three boys, and two barn cats.