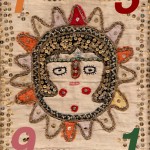 A World of His Own
The day drives on as a sullen dream,
with waves that neither break nor live
A man wanders on in search of daybreak on the silent seas.
And with ears eyes mind and soul he draws a landscape of his own.
And through that world he lives his dreams,
childhood's fantasy, and youth's desire.
As sorrows & despair, hatred and wars
mingle as happiness, as emotions he choose
And his relieved mind bears down the burden of ambition
the tumult of reality.
Love he could feel -
Neither for mankind nor bird or trees
But for a dream to fulfil…
As the song of heart, sound of steel entwine
He drove home in a sweet lullaby,
his laughter none to steal
Alone he lives in the desert of pain,
alone he crosses the seas of desire
As nor sorrow nor pain love nor gain
lives on to live with him..
As life travels and time departs, he stays on his world,
with bright eyes and happy brows
The ruler of the world he created…
Sayandev Paul studies at Bengal Engineering And Science University, Shibpur, in the Department of Computer Science.
Photo courtesy of Marco Djermaghian.