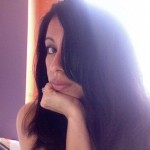 Cyn Vargas
The tree house burnt down in 1983. From the day it was built by Henry Cornwell's dad back when we were seven to the day it went up in flames almost five years later, Henry and I spent many afternoons there.
After school, sometimes we'd trade moon pies for trail mix – Henry loved trail mix – and then we'd draw on the wooden boards inside with chalk. Tic-tac-toe, hangman, or just some silly sketches – mine were all stick men or stick women or stick dogs – but that Henry did have talent.  His drawings looked like drawings.
That morning in 1983, Henry turned to me and said, "Naomi Dominguez, my dad said he's gonna get me a dog for my birthday." We sat next to each other in gym class on the end of the bench. We were always chosen last for everything – dodgeball, baseball, basketball. We were even last when there was nothing to be chosen for.
"What kind of dog?" I said, watching Henry's gym shirt sag over his thin body. The kids picked on how skinny he was, saying he could slide underneath closed doors or called him Ramen cause they said he was as stringy as a noodle.
"I dunno," he shrugged his shoulders.
There were two captains standing in the middle of the gym. One was Estafan who had hair thicker than his accent, hairspray on the tips of his spikes like snowflakes on top of needles. The other was Sandy, the most stuck up girl in seventh grade who padded her bra, and never did a good job because every day her boob size was different, but the boys knew no better.  I'd catch Henry looking at those 1-ply or 2-ply paper boobs – depending on which toilet paper her mom found on sale – the same way he looked at the new G.I. Joe action figures at the store with his mouth gaped and salivating with his eyes.
I didn't have boobs, really. I never told anyone, but at church after communion when I went back to the pew to kneel and pray, I clasped my hands together till they shook and prayed something like this, "Lord, please make them grow. They don't have to be big like Mrs. Carter's in math whose hang so low they look like old punching bags, but I'd be happy even if they were the size of oranges.         Oh, and protect my dad and mom and Henry."
After that gym class when Henry was hit in the stomach with the basketball on purpose and I was left on the bench cause there was an odd number, Henry and I sat at the cafeteria table near the window.
"My dad said that we're gonna get a dog from the shelter," he said taking a bite of his peanut butter & jelly sandwich; some which squeezed out of the bread and plopped onto the table. The cafeteria was filled with the stench of processed ham and stinky cheese that reeked like my Uncle Juan's feet.
"You should steal me a dog when you go," I said.
"Steal you a dog? Why don't you just get one?" he said, munching on the trail mix I just slid him in exchange for a moon pie.
"Cause my mom and dad won't let me get a dog. We don't have room." We didn't have a yard or a toilet that worked if you threw toilet paper in it, or an oven that baked anything over 200 degrees. We only had a one-bedroom apartment in the corner building with the dead grass. My parents slept in the teeny bedroom while I slept on the sofa bed.
After school that day, after I got an "A" in geography and my paper was covered in red stars, after some eighth graders said I had skeleton teeth as I passed them in the hall and laughed at me, after I went into the girls room and cried real quiet, Henry and I strolled to his tree house together.
"If you're really my friend, you'll steal me a dog," I said, seeing his house down the block.
"Fine. If I steal you a dog, where you gonna keep him?"
I hadn't thought that far ahead. Unless it was one of those dogs that fit in a cup, I wouldn't be able to fit it anywhere in my home, and I wanted a real dog. One that I could walk around and it would bark at people that were mean to me. Not a dog that looked like a rat and sounded like a dolphin when it got mad.
"Look, Naomi. How about my dad gets me a dog and it can be your dog too only we'll keep it at my house, ok?" We turned into Henry's yard, dropping our book bags on his front porch.
"Hi, kids!"  His mom yelled from inside. Her voice traveled through the screen door, but we didn't see her. "Be on time for supper, Hen dear. Your father has a surprise for you."
"Ok, mom! We'll be in the tree house," he said and we saw his mom had left us two cans of soda pop and a bag of chips at the bottom of the trunk. She knew adults weren't allowed in the tree house.
"Don't you want to know what it is?" I yelled up, as Henry climbed the wooden planks that were nailed into the tree, his gym shoes just inches from my head.
"Nah, I like surprises," he said pulling himself inside and I followed.
"Maybe it's a dog," I said opening the bag of chips.
"Maybe," he said and then he changed a bit. He gazed at my crappy drawings on the boards. "Do you think I'm skinny and a nerd?" he said with his head turned away from me.
Henry Cornwell was too skinny. He was a nerd, but so was I, and that made it all right.  We were all right together.
"No, you aren't too skinny, Henry and you're not a nerd," I said. I licked the orange powder from the chips off my fingers and opened a can.
"Sometimes, the other kids are enough," he said, and then began to eat chips too. I knew what he meant. The kids were enough in the way that they wouldn't stop making fun of us. They were the popular ones that wore new clothes every week and had the latest records or video games, and shoes whose brands were known.
"I know," I said and took a sip of my soda pop, "But remember Henry, they're also the stupid ones," and he grinned and I felt better.
It was almost suppertime as we played crazy eights with cards that smelled of rain, wood, and sun. Then there was a scream. It was high and long, and I swore the tree house swayed.
"Henry! Henry!" someone shrieked.
"Mom!" Henry yelled, and stuck his head down and out the opening of the tree house like an ostrich. I couldn't see anything, but holes in the wooden house that let in the dying light.
"What's wrong?" I said. Henry turned and looked at me, his eyes wide.
"There's some cops," is all he said before he began to climb down. I hurried after him.
We ran towards a knelt silhouette on the porch. A cop leaned over Henry's mom enveloping her in his shadow. When we reached them, Mrs. Cornwell's hands veiled her face; the plump veins quivered. Her glistening fingers separated and her eyes cast with red webs caught sight of Henry. The cop stepped back.
"Oh, Henry. Your dad. Your dad," she bawled. He knelt down beside her, his arms stretched around his mom – she dissolved into him. Henry's eyes met mine for a second and he knew right then that his dad was gone.
"The dog is fine. A little banged up, but fine," the other cop said handing me over this black pup that looked like a miniature pony. Henry and his mom sunk into the wooden porch, their knees seemed to disappear as they clung to one another. Mrs. Cornwell's knuckles white as she seized the back of Henry's shirt. He lied the side of his head on her shoulder, tears surged as he muttered, "Not dad."
"I'm sorry, Henry," was all I could muster before I left with my parents who had rushed over. My mom held Mrs. Cornwell in her arms and my father held Henry. I stood in the middle of the living room, watching all of them, as I held the pup against my chest. The point of each of the dog's ears fidgeted and he squirmed into my shirt. His eyes drooped until they almost shut completely only to jerk open when Mrs. Cornwell's piercing sobs rose.
That night, my parents sat me down at our kitchen table the size of a game board. My mom, her face pale, rubbed her hand over her eyes then her temples and over her eyes again. My dad swiped the curls out of her face then grasped my hand. They explained what happened. Henry's dad was on his way back from the animal shelter when some drunk crashed into him.
"It happened so fast, he didn't feel a thing," my dad told me. Then he said the dog was in a cage, buckled in. Mr. Cornwell made sure to keep Henry's present safe.
Later that night, when the living room shrunk with the edge of the sofa bed caressing the windows, I lay under the covers and stared up at the ceiling. It was like an Etch-A-Sketch with lines appearing and disappearing from passing headlights. I thought of Henry.
I woke up to sirens, and red and white lights flashing into our living room. My parents came out in their robes. We stepped out to the front of our building, but ran down the street when we saw all the fire trucks in front of Henry's house. Neighbors stood all around and my dad said, "It's the tree."
Henry's tree house, our tree house, was up in flames. Dry leaves sizzled and the nails in the wooden steps melted. I saw Henry holding his dog, his mom behind him, and her hands over her mouth. We bolted towards them. My parents and his mom spoke in whispers. Henry, his eyes swollen with tears, said, "I just wanted to light a candle for my dad, Naomi. I didn't mean to."
"It's ok, Henry," I said. I wrapped my arms around him for the first time. His light, numb body trembled and the dog silent between us. If it wasn't for my shoulder wet with his tears, for the breath from the dog on my arm, I could've very well been holding the wind.
After that things were different. Henry stopped talking even to me. When I saw him at school, he wore one of his father's shirts that went down to his knees. I still sat next to him in gym and at lunch, but he never said anything when I said hi. He only nodded and it seemed like he was just gone. I'd still slide over my bags of trail mix, but he wouldn't take it.
After school, I'd see him in his backyard. The tree, half scorched, was cut down to just a stump and there Henry sat on the only thing left as a reminder of the tree house. The dog, whose name I never knew, lying at his feet.
When school ended a couple months later, his mom told mine that they were moving away – everything around them had too many memories.
"Bye, Henry," I said, as we stood on the sidewalk in the shadow of the movers' truck.  I wanted to tell him he was my best friend, that I didn't want him to go, that I was going to miss him.
"Bye, Naomi," was all he said. He cradled the dog in the crook of his arm. I scratched it behind its ears – the only part of him that seemed to have grown. Henry reached into his jacket pocket, brought out a moon pie, and put it in my hand.
I waved at Henry as his mother drove away. He waved back, the glare off the window made him glow and I kept waving long after he was out of sight.
Cyn Vargas writes because it's her way of legally exposing herself in public. A Top 25 Finalist in Glimmer Train's Short Story Award for New Writers, her work has appeared in Hair Trigger 33 and the Story Week Reader. Cyn is currently a MFA candidate in Creative Writing at Columbia College Chicago. www.cynvargas.com.