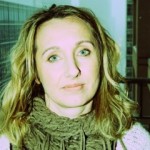 Eliza Fogel
As writers, we get to learn interesting and trivial facts like the marshmallows in our Lucky Charms are leftover circus peanuts; or that Goethe's grandmother gave him a puppet theater with which he played furiously, training to be a playwright; or that the game "Seven Minutes of Heaven" started with teenagers in Cincinnati in the 1950s.
In case you didn't know–the winner in "Seven Minutes of Heaven" has the privilege of choosing any girl in the room, taking her into a darker room, closing the door, turning out the lights and the two can do whatever they please for seven freaking minutes.  In fumbling, make-out years this seems like forever.  As an adult this feels like a casual greeting.
It's this tangling of images and words:  Closets and Heaven; Rilke and wax dolls; Bengay and moldy grandmothers; me, sitting in the dark, blue sparks shooting out of my mouth while I nervously bite down on wintergreen Life Savers, waiting for Danny Gentry's kiss. The candy gives off a soft glow when it's crushed because the essence, oil of wintergreen, is fluorescent.  And there it is…that open-mouthed curiosity prickling my hairs; the questioning that sends me chasing the phrase—oil of wintergreen.
Yes, it's in most liniments and definitely in Listerine; but what I didn't know is that it was also in the first batch of formaldehyde drowning the row of pickled babies in the Museum of Science and Industry.  It was one of the primary ingredients added to the specimens.  Those babies, or rather, embryos and fetuses, are encased in thick glass so there's no way I can tell if they smell wintery fresh.  And it does no good to tap on the glass and hopefully force up an old minty fart.  I've tried a knock or two.
This gallery of human development is a writer's goldmine.  Life is presented in twenty-four stages in a linear fashion, beginning to end.  A white cone of light illuminates each step in becoming a human being. Trapped in the middle of the story are these babies floating in small glass tanks.  And the background of these liquid boxes looks as if a carpenter carefully tacked up swathes of black velvet, offering a dark, but comfortable pillow bed. Twenty-four story starts.  Twenty-four lives to imagine and create.  I want to know more about these babies.  How did they get here? Where did they come from? What happened to them? What happened to their parents?
This I know:  Dr. Helen Button lent the specimens to the museum in 1939.  As an obstetric resident at Cook County Hospital, she preserved these specimens for educational purposes.  They are the resultant loss experienced by many women during the Depression.  Maybe because so little is known, observers stand there, ogling and searching for clues.
It is one of the most captivating exhibits and it's completely interactive without gadgets and whistles.  Its mesmerizing power forces participants to take time and view each individual unit closely.  The museum even noted that while most visitors exit quickly during a power outage or other emergency, people in front of the Prenatal exhibit stay, unable to leave until they've viewed each specimen.
Of course, it fascinates because we're given a glimpse into a world the naked eye can't see and then there's all of the lost history and mystery.  But even beyond that… the exhibit is alive and enchants the viewer into suspended disbelief.  I am no different and fall right into the magical narrative created by the scene.
As I walk along the curved wall watching the baby's development, I realize that I no longer see twenty-four separate babies.  My mind has conformed to the linear progression and for a moment I am tricked into believing that there is only one child behind the glass; he's made it all the way to the end of the pregnancy.  One baby growing from one little seed—not all of these diminutive and disparate fingers and toes.
I'm standing in front of the last specimen, the most perfect, full-term, beautiful boy. He has dumpling cheeks and precious kissy lips. His body looks soft and fuzzy as a peach. I press my hands up to the glass case and my fingerprints join all of the other smeared prints. I want to touch what's inside. I want to wake up the baby.  The reality that this is 80-year-old dead human flesh, shriveled and gray with age, with eyes permanently closed, escapes my reasoning.
I want to pound my fists on the glass. Wake up, baby. Why won't you wake up? I need to know all of your trivial facts and your secret story. I'm a writer.  I need those precious words so break your lullaby spell, baby.  A woman with a long, red scarf stands next to me, tilting her head.  Without turning she speaks to my reflection and asks, "What if it opened its eyes?"  The question isn't even startling.  It seems like the most plausible possibility.  Without turning, I whisper, "I'd bottle him in my arms and take him home."
About the author…
Eliza Fogel is a writer, splitting time between Chicago and Los Angeles. She builds stories one word at a time.