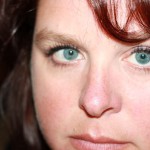 Viki Gonia
I'm somewhat recently divorced. People keep bugging me to start dating. It's annoying. Please stop telling me to start dating. The conversation usually goes like this:
"Are you dating anyone?" says well-meaning friend.
"No," I say, steeling myself for the inevitable.
"Why not?" says friend. "You should start dating! There's someone out there for you!"
Sigh. First of all, how exactly does one just "start dating?" Does one wear a sign that says "Now dating?" Or paint "Available!" on one's forehead? Is it merely a matter of hoisting one's 42-year-old breasts up higher and wearing lower-cut blouses? Perhaps paint "available" across these hoisted breasts? Would that work?
To be perfectly honest, I don't have a whole lot of experience in these matters. My past relationships, almost exclusively, consisted of when I started fucking the guys I was friends with, fucked them for a while, and then went back to being friends with them. Sometimes, I even started fucking them again, after we'd both been fucking other people and got sick of them. One time, I ended up marrying the guy I was friends with and had started fucking. I'm not married to him anymore, though. Perhaps I should mention that I'm not still fucking him, either. He's dating someone.
Anyway, the sticky thing is this whole notion of "there's someone out there for you!" What does that even mean? My responses to this vary. Sometimes I say, "I don't really like people that much." (This is mostly true.) Sometimes I just shrug. Or, I say, "Mmm, I don't think so."
That response usually prompts my well-meaning friends to list all of my wonderful qualities, and to say things like "Anyone would be lucky to have you," or "How do you know unless you open yourself up to finding that person?" Now, I certainly don't mind hearing about how fantastic I am. I happen to agree, actually. But I'm not so sure anyone would be lucky to have me.
I decided to work up a little ad, for the personals. I figured I could put this ad on Craigslist or something, or maybe join up on one of those dating websites. And if anyone made it through the ad, and still wanted to date me, then maybe my well-meaning friends were right, and I'd go ahead and start dating this person. Or, I could hand out copies of the ad to my well-meaning friends and ask them to find someone who fits the bill. However, I'm pretty sure anyone who read this ad and still wanted to date me is probably insane. Or a psychotherapist looking to recruit new patients.
The ad (feel free to distribute):
Slightly-over-40 woman with two teenagers available for dating/relationship with the following restrictions:
1.  You must be male, with working male parts. Preferably heterosexual.
2.  Over 30. I have a rule. Maximum of 10 year age difference. Okay, 11 years. Fine, 12 years. I'm 42. Christ. Why must you nitpick me so? But under 50. Until I reach 50 and I'm still alone, and then this rule no longer applies. By then, I'll probably own too many cats and it won't matter.
3.  I don't want to see you that often. 2-3 times a week, max. I don't like talking on the phone, either, so communication must be through email or text message. In fact, we could probably conduct the entire relationship via text message, plus one or two nights of hanging out together, and sex, and that would be fine.
4.  My dogs sleep in my bed with me, so you might get kicked to the couch. Or you could just go home, also fine.
5.  These are the things you must tolerate: smoking, drinking, shooting guns, long hours spent reading books or scribbling sometimes incomprehensible ramblings in my journal, which you are not allowed to read. Also, I watch The Bachelor and The Bachelorette. Get over it. Actually, sometimes I do all of those things at the same time.
6.  I like my alone time. A lot. If I say "Go away," don't be hurt. It's not personal. Just go away. I'll let you know when I'm done with my alone time. If you like alone time too, then we'll probably get along really well. We could even have alone time in the same room, as long as you don't talk.
7.  When I want to talk, however, I'm going to talk a lot. You will have to listen. You can either care, or pretend to care, either works. I'll listen to you, too. I'll do my best not to interrupt (I'm not good at that, though).
8.  If you happen to find me sitting on my bed, perusing Facebook, eating ice cream out of the carton, whilst still in my pajamas, at, say, 2 p.m., don't say anything. Certainly don't say "What's wrong?" like I'm all depressed or something. Nothing's wrong. What could possibly be wrong with sitting in one's pajamas in bed with chocolate ice cream and the internet in the middle of the afternoon? You may join me, but get your own ice cream.
9.  I see that all of the above makes it sound like I'm just looking for a friends-with-benefits situation. Not so. I'd prefer a tad bit more intimacy than that. Except when I'm having alone time. Or in the bathroom.
10.  You MAY NOT EVER come into the bathroom while I am using it. You MAY NOT EVER use the toilet while I am in the bathroom doing other things. This is non-negotiable. That is not intimacy. That is disgusting.
11.  We'll probably have to have some things in common. Here are some of the things that I like, and if you like some of these things too, we'll get along: alone time, reading books, talking about books, talking about how ridiculous some people are, writing, Wilco, listening to Wilco, talking about Wilco, (you get the idea–I've been told that I can be annoying about this. I'm a big Wilco fan. Sorry.), cooking and eating, drinking, drinking while cooking and eating, eating and drinking at delicious restaurants, seeing movies, going to (probably Wilco) concerts, and talking about religion/politics/family issues without getting angry with each other. I also like being silly, and conducting drunken dance parties in my living room. I sometimes do that during alone time, but you can join the dance party if you'd like.
12.  I'm not going to put up with any of your bullshit.
You see what I'm saying? Who would consider themselves lucky to be with someone who makes such demands? I mean, there's some wiggle room there, but not a lot. And I'd hate to start dating someone who didn't know about that stuff, and then one day he says to himself, "You know, you're kind of a bitchy loner. I'm out." And then that whole "You should start dating" thing would start up again. That would suck.
If you know a man who could put up with the above requirements, feel free to send him my way. I don't really have my hopes up, which is why I'm not dating.
The thing is, why should I have to start dating? Why is it unacceptable to be alone? I like it. Me, my kids, my dogs and cats, my chocolate ice cream… Ahhh. Now go away.
About the author…
Viki Gonia teaches Fiction Writing at Columbia College Chicago, writes a column for her local paper, and hangs out with her 2 kids, 2 dogs and 2 cats.  And she's definitely not dating.