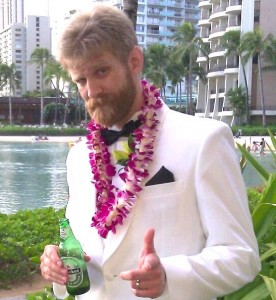 Ira Brooker
"I like your stretch marks," she says, crisscrossing the space between my shoulder blades with a chilly fingertip. The marks have been there since I was 14 and my pubescent body tried its damnedest to outgrow its own skin. She places her palm flat against my back. "I like that I can see them and you can't," she says. "It's like I know a secret you keep from yourself."
***
I scratch her back in the grey of the early morning. My fingernails trace an invisible tic-tac-toe grid across her skin as she stretches and sighs. When I reach the small of her back my fingers reflexively spread slightly to avoid the mole she hasn't had to warn me about for more than a decade. Even with her back to me in the hazy half-darkness of the bedroom, I can feel that she is smiling.
***
I pull close to her as she lies on her side beneath the blankets. I snake one arm slowly around her shoulder and drape the other gingerly over her torso, fingers dangling loosely against her hipbone. My chest presses against her back and I can feel her perpetually frigid flesh greedily siphoning the heat out of me. I don't mind. I have plenty to spare. She squirms as I nuzzle my face against her shoulder blade. "Your beard tickles," she murmurs through a thin layer of sleep-fog. I slide my head back on the pillow, away from her skin but only just barely.
About the author…
Ira Brooker is a writer and editor currently based in Saint Paul, Minnesota. His work has appeared in multiple magazines and websites, including F Magazine , Hair Trigger, MadeLoud and more. He blathers about pop culture at A Talent for Idleness and flatters himself at IraBrooker.com.