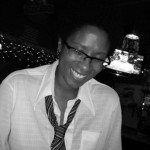 Sheree L. Greer
Valentine's Day, 2009. It's Saturday night, and since my relationship fell apart six months prior, I'm alone. I sit at my desk in my home office. It's really just a small space something like a walk-in closet, but since it has a window, it seemed only right to upgrade it. There's just enough room for my card-table desk, folding chair, and waste basket.
A few months ago, when I was happier, I put up shelves. Having never gotten around to using them, my books still fill the stolen milk crates along the wall of my bedroom.
I consider, briefly, stacking my books on the plywood shelves, situated expertly on tracks with brackets. No. Productivity on Valentine's Day isn't allowed. Either you're out on a date or you're sulking. Those are the unspoken rules. People who 'do' things on Valentine's Day are fooling themselves, pretending that their girls' night out or home project will chase away the melancholy. That's a punk move. Go hard or go home. Feel that shit. That's my motto anyway. So I sit, wine at my side and A Tribe Called Quest playing in the front room, low and indiscernible, a hushed discussion over Pete Rock beats and Green Dolphin Street horns. My laptop in front of me on the desk, I settle myself into my chair. It's uncomfortable, hard and unrelenting, but that's what I deserve. Nice, cushy office chairs are for successful people, people who publish novels and get interviewed for magazines. People who can keep a girlfriend. People who aren't me.
I know what you're thinking. Another Valentine's Day story dripping with self-pity. B-o-o. H-o-o. Well guess what, Einstein. You're right. It is. Reality is, every one isn't jumping and skipping and falling in love. So, when Valentine's Day comes, these people find themselves lonely. And bored. Being one of those people, and being a writer, I find myself doing what all writers do when they're lonely and bored: Research.
And what better topic than Valentine's Day? Okay, lots of better topics. But, I'm feeling some type of way. I want to crack the code. Dissect this 'Hallmark Holiday,' snatch the little cherubic freak's arrows and snap them all in half. Who's with me?
Here's what I find:
807,365,823,885 cards are purchased on Valentine's Day.
Top Valentine's Day gifts are 1. Chocolates; 2. Flowers; 3. Jewelry; 4. Stuffed Animals; 5. Baskets filled with all of the above.
Worst Valentine's Day gifts include: 1. Vacuum Cleaner; 2. Waffle Iron; 3. Transmission.
During Valentine's Day, florists and grocers triple the price of roses.
The days following Valentine's Day are the biggest days for break-ups, and the number one Valentine's Day song is "Let's Get It On" by Marvin Gaye.
The song bit surprises me. I figure it would be something more romantic and less carnal, more about love and less about sex. I look up the song on Youtube and find a video with lyrics. I see it now. The song is genius. It's about both: sex and love, giving your heart and giving it up. "I love you… but, um, stop beating around the bush." I play it twice. I share the song on Facebook. My first mistake.
Compulsively, I go to her page. Now, she is my research.
85% of people look up their exes on Facebook.
70% of those people stalk their exes on Facebook.
In an effort to be one of the 15% just looking innocently, I try to multi-task. I've got multiple windows open – tabs and shit: Google, Bing, Ted Talks, Wikipedia, Slate, the Onion, Youtube, dictionary.com, and Facebook. Dammit Facebook.
Her page loads, and Reese is as beautiful as ever. Her picture is her laughing, hand clutching her chest, head thrown back. A vein shows itself in her neck. I remember kissing it mid-conversation – ridiculous pillow talk one of my specialties – her boisterous laugh filling the bedroom. Pushing past memory, I click through her pictures, cousins and friends, co-workers and throw-backs from elementary school. Turtlenecks used to be the shit. Reese looks cute even with that roller line in her bangs. I keep clicking: Graduation from FAMU, her sister's baby-shower, her brother's wedding. It feels good to see her and I hate every minute of it. Girls Night Out. Circle City Classics. 2007 Sizzle in Miami, where we met.
"I drove down from Tampa," she had said sipping on an electric blue drink dressed with a pineapple and two cherries.
"Me too," I smirked. Coincidence or fate?
According to Google.Maps, Tampa to Miami is 280 miles or 4 hours depending on your reverence for the speed limit.
I took Reese in. Hair pulled away from her face, neat eyebrows and bedroom eyes. The way the tip of her straw hovered at her full lips made me nervous. Sexy black dress, strappy silver stilettos, her skin a warm, simmering brown. Hot chocolate. Swiss Muh'fuckin' Miss. I was in love.
Love at first sight is calculated as a high level of attraction coupled with approximately 8.2 seconds of uninterrupted eye contact.
Onion headline: "Love at First Sight Trumped by Disgust with Second Look – Overhead Lighting at IHOP Reveals Terrible Mistake"
We hooked up that night, carelessly and carefully at the same time – we threw our clothes around the room and knocked over a lamp, but touched each other like we were made of crystal. Returning to Tampa, we talked every night for hours, and a whirlwind of dinner dates, overnights, and blissful mornings turned into me and her. A couple. A relationship. I didn't change my relationship status.
24% of Facebook users don't post their true relationship status.
She changed hers. 'Reese Taylor is in a relationship.' A few people liked it. Someone commented "congratulations!" Someone posted a sad face. Don't remember who; didn't think I needed to.
59% of people get jealous over FB statuses and interactions.
Before meeting Reese I wanted to be a good woman, but with her, really being with her, I wanted to be the best. Like the best woman ever. I stopped smoking, gave up pork, ate less red meat and more vegetables. I visited my mother every Sunday and even started paying my bills on time. My writing career picked up, modest as it is. I submitted more stories and received fewer rejections and more invitations.
Seven months in, Reese started acting strange.
"You're never here," she had said.
"I travel for work. You know that. You knew that," I said, packing. I always seemed to be packing.
"Well, I don't know what you're doing at those book fairs and writing conferences."
"You need to trust me." I sighed, already done with the conversation. I marveled at the wheels on my valise. "Whoever thought up wheels on suitcases was a fucking genius," I said, zipping my suitcase closed.
"I don't," she said, "trust you. I don't trust you."
Maxim.com: One in three couples is plagued with infidelity.
"What do you want me to do?" I asked.
"I don't know," she said.
And suddenly I regretted telling her everything. While Reese and I were dating, I had told her that one woman's slut is another woman's free spirit. I told her I had an amazing capacity for keeping secrets. Over one of our early dinner dates, I had told her what I had learned from my last relationship: 1. I don't like sleeping alone and 2. Cheating is surprisingly easy.
The Web Linguist reports that 'Everything,' 'always' and 'never' are most often used to exaggerate the truth.
I hadn't told Reese everything. A few months before we ended, I attended a small book-signing in Milwaukee; one of my stories had been published in a new anthology. A homecoming, visits to old places and a visit from an old lover. "You were such a fucking asshole," my ex had sighed as I signed just under the title of my story in her book.
"Sorry?" I said.
Dinner and drinks at Twisted Fork, shots at G Daddy's, and beers on Water Street. Then, back to my hotel. Frantic kissing in the elevator led to over-the-clothes petting, yes petting, as I fumbled with my key card. Something about the way the door lock clicked jolted me back to reality. I sent my ex home; surprised, she left, shaking her head and adjusting her shirt. Once inside, I packed my suitcase and rolled it to the door. I called Reese and told her I loved her; she said it back.
Dictionary.com: the word 'back' has over 17 entries.
Feeling the shit just got real. Everything comes flooding back like it always does. My fingers restless on my keyboard, I Google 'cheating.'
73% of women consider kissing a form of cheating.
I never told Reese about making out with my ex in Milwaukee, and that small crack of infidelity became a canyon. And I fell into it. Screaming other women's names. Why? Because I could. Because Reese said she didn't trust me. Fine. Don't. If your woman doesn't trust you, and you meet another woman in a forest, have sex with her, or even just kiss her, does it make a sound?
Someone may or may not be drunk on red wine at this point.
A glutton for punishment, I click through Reese's latest album. Pictures of her taken by someone else. Then a picture of someone else taken by her. Finally a picture of them together. Reese is gorgeous of course, and the other woman looks good too, tall, athletic. She probably owns a dog and doesn't drink. I hate her. 'Me and the Boo chillin' in D.C.' the caption reads.
Grammargirl.com: Proper grammar is 'The Boo and I…'
Wikipedia: Outside of the urban vernacular, 'Boo' is a ghost enemy from Super Mario Brothers, a computer language, and a less-than-mediocre movie from 2005 about college students trapped in a haunted hospital.
My mouse hovers over Reese's name. I should delete her. Unfriend her. But something about that seems childish, but more importantly it doesn't seem like something 'The Boo' would do.
I think about sending Reese a message. Something friendly. Something funny. Something sweet that would remind her of old times.
32% of people use FB to try to get back together with an ex.
I can't think of anything. I blame the wine. I close my laptop and decide to shelve books.
About the author…
A Milwaukee, Wisconsin native, Sheree L. Greer has been published in Hair Trigger, the Windy City Times, Reservoir, Fictionary Magazine, and Windy City Queer Anthology: Dispatches from the Third Coast. She has performed her work across selected venues in Milwaukee, New York, Chicago and Tampa, where she hosts Oral Fixation, the only LGBTQ Open Mic series in Tampa Bay. She received a Union League of Chicago Civic and Arts Foundation Award, earned her MFA from Columbia College Chicago, and currently teaches writing and literature at St. Petersburg College. Ms. Greer is an Astraea Lesbian Writers Fund grantee, completed a VONA residency at University of Miami, and recently published a collection of short stories, Once and Future Lovers. An excerpt from her yet-to-be-published novel appears in Best Lesbian Romance 2012.